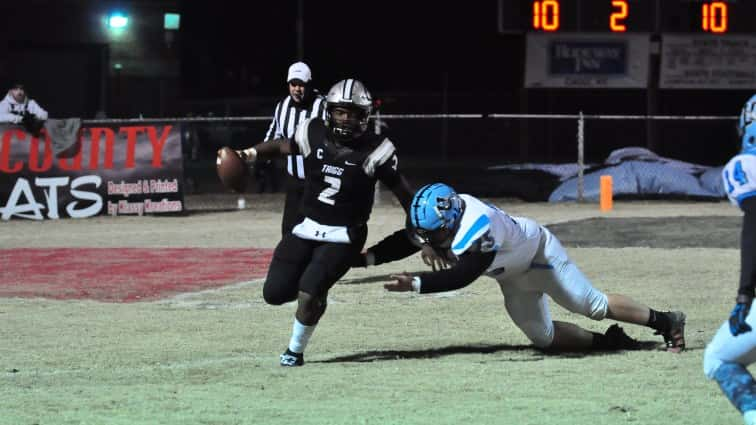 Nine Trigg County football players have been named to the Class 2A All Western Kentucky Conference Football Team.
Tayshaun Barker, Cam Jordan, Jakobe Bridges, Cade Bleidt, Trevor Lewis, Josh Visingardi, Jaquellus Martin, Kion Thompson, and Kendric Adams were Trigg County's representatives.
Jordan graduates as the second all-time passer in Trigg County history with 4,400 yards and 318 completions.  His 43 passing touchdowns are tied for third most.  He also rushed for 2,073 yards and 42 touchdowns at the quarterback spot.  In 2019, he threw for 1,857 yards and 21 touchdowns while rushing for 623 yards and 18 scores.  Jordan has committed to the U.S. Naval Academy and will sign with the school Dec. 18.
Bridges caught 30 passes for 344 yards and five touchdowns while being double-teamed by most defenses during the 2019 season.  He finishes his Wildcat career as the career leader in receptions with 115.  His 1,489 yards ranks third in school history, and his 21 touchdowns are second.  Bridges also had three interceptions and two special teams/defensive touchdowns.
Barker had 18 catches for 221 yards and two touchdowns and ran for 427 yards and three scores.  He also had a kickoff return for a touchdown.  On defense, he tied for the team lead with seven sacks.
Bleidt was second on the Trigg County team with 485 yards rushing and nine touchdowns.  He also led the Wildcats in tackles with 123, including 37 solo tackles.
Lewis recorded 34 tackles, three of those for loss.
Visingardi was second on the team with 22 catches for 318 yards and a touchdown.
Martin had a receiving touchdown on offense and generally drew the other team's leading receiver on defense where he recorded 31 tackles.
Thompson had 21 catches at the receiver position and led the Wildcats with 544 yards and six touchdowns.
Adams was the third leading tackler for the Wildcats with 62 and led the team in tackles for loss (8) and tied for the team lead in sack (7).
The players will be recognized at the WKC Banquet at a later time.