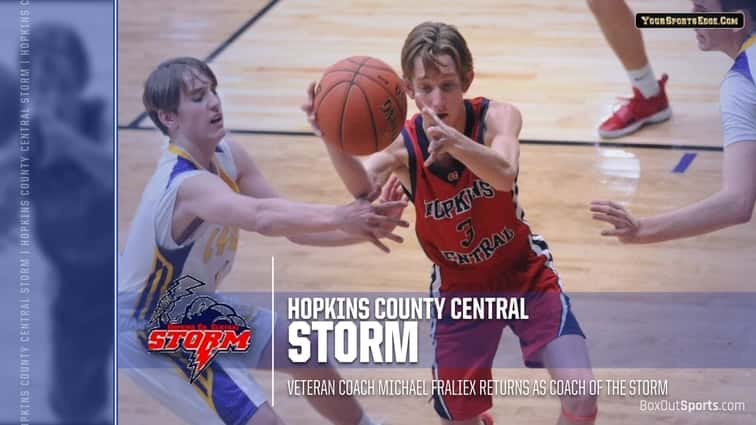 Michael Fraliex has won the 7th District championship before.
The former Western Kentucky University standout won the district title in 2007 while coaching at his alma mater, Caldwell County.
Now, Fraliex is tasked with turning the boys' basketball program at Hopkins County Central into a title contender.
The Storm's numbers are up and big things appear on the horizon. However, taking aim at the championship this season will be a huge challenge in a 7th District that includes defending 2nd Region champion Madisonville-North Hopkins as well as what appear to be solid squads at both Caldwell County and Dawson Springs.
Still, Fraliex believes his squad will be in position to challenge for district titles — the only variable is time.
The Storm lost one of the 2nd Region's top players last season in Tylan Mann, who poured in 21.9 points a game while grabbing 6.5 rebounds a contest.
However, double-figure scorers Blasin Moore and Adrian Stringer are both back for another go-around.
Moore, a 6-foot-3 senior, tallied 11.2 points and 6.3 rebounds a game last year while Stringer, a 6-4 junior, scored 10.0 points a night and led the team with 8.2 rebounds.
Those numbers figure to improve as both players look to pick up the slack after the graduation of Mann.
Senior 6-2 guard Sam Almon also returns to the Storm backcourt and is a threat from long range after making almost 30 percent of his 3-pointers last season. Almon averaged 7.5 points a game as a junior.
Also, keep an eye out for 6-3 freshman Marcus Eaves, who could be the point guard of the future for the Storm sooner rather than later.
Hopkins Central has a deep senior class, but also has talented underclassmen who just lack experience on the varsity level.
A lot of different people could see action early in the season as Fraliex tries to find just the right combination on the court.
One thing is for sure. Hopkins Central will try to play the same uptempo, aggressive style that Fraliex played at both Caldwell County High School and Western Kentucky University.
Fraliex scored 2,896 points in a Caldwell uniform from 1987-92. At the time, that was more points than any player ever in the 5th District.
Fraliex had a standout career at WKU, and is still 31st on that school's career scoring list with 1,205 points. He ended his playing days on The Hill atop the career lists for 3-pointers made and 3-pointers attempted as a Hilltopper.
Fraliex played in three NCAA Tournaments, including Western Kentucky's Sweet 16 team in 1993. He hit a late 3-pointer in that game to force overtime — a shot that has been played often during the preseason on the Hopkins Central videoboard — as the Hilltoppers upset Michigan in the first round of the 1995 NCAA Tournament. That Michigan squad included future NBA stars Jalen Rose and Juwan Howard.
Following a stint as an assistant coach on the boys' team at Lyon County, Fraliex first became a head coach when he took over the girls' program at Lyon for the 2000-01 season, leading the team to regional berths in 2002 and 2004.
Fraliex returned to his alma mater for the 2004-05 season and coached Caldwell for five seasons. His best year was in 2007, when he guided Caldwell to a 23-4 record, a 7th District championship and a berth in the 2nd Region semifinals. Fraliex was named the 2nd Region Coach of the Year that season.
Fraliex was 69-51 as head coach at Caldwell.
Last season, Fraliex was an assistant coach at Livingston Central.
Fraliex replaced Lee James on the Hopkins Central bench. The Storm went 12-15 last season.
Fraliex and the Storm will tip off the 2019-20 season on Monday, Dec. 2, with a trip to the 4th Region to take on Todd County Central.