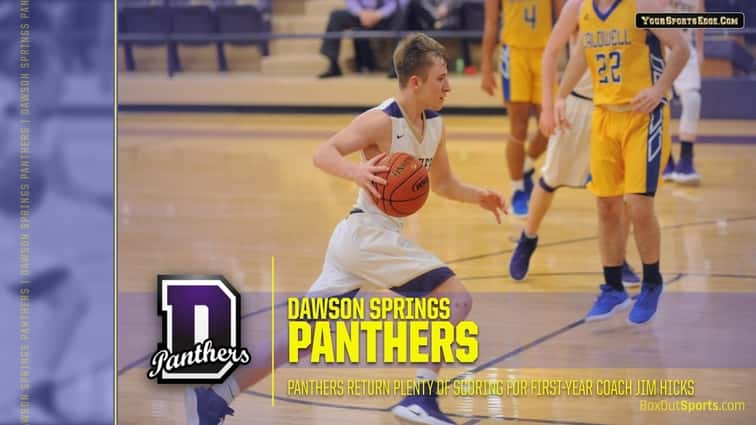 Dawson Springs hopes to be a surprise team in the region this season with the talent the Panthers welcome back.
The biggest negative for Dawson is competing in a stiff 7th District that not only includes defending 2nd Region champion Madisonville-North Hopkins, but what appear to be solid squads at both Caldwell County and Hopkins County Central as well.
Still, the Panthers are expecting to compete with just about everyone on their 2019-20 schedule.
First-year head coach Jim Hicks has four players on his roster with starting experience.
Leading scorer Skyler Clark returns for his senior season. The guard averaged 18.6 points a game last season as the Panthers went 9-20. Clark shot just under 32 percent from 3-point range and can also score off the dribble.
A pair of juniors are also back after starting last season. Guard Landon Pace netted 13.6 points and grabbed 5.0 rebounds last season while 6-foot-2 forward Dylan Dawson grabbed 9.1 boards a game while also tallying 7.0 points.
The Panthers also return a starter from two years ago, bolstering the experience on the squad. Braxton Cotton, a 6-5 forward, scored 14 points and grabbed 7 rebounds a game as a sophomore before sitting out his junior season.
Junior guard Logan McKnight and sophomore guard Dilyn Skinner will also play key roles this season for the Panthers.
"I think our entire team will surprise people," said Hicks, who noted the squad would like to make a run at 20 wins and compete for the All A Classic regional championship.
Hicks took over the Dawson Springs job after Chad Burgett left that post to become head coach at Trigg County.
The Panthers will get a big challenge in their season opener when they visit 1st Region contender Marshall County on Monday, Dec. 2.
The Panthers will play their home opener the following night, hosting Christian Fellowship School as part of a girls and boys doubleheader at Panther Gym.