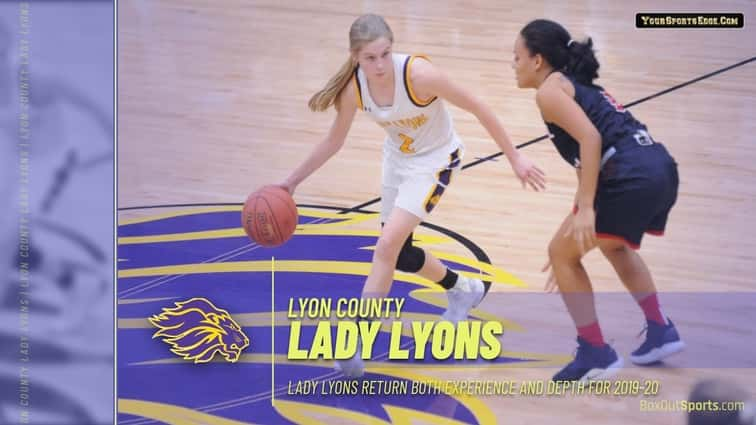 The 2019-2020 Lyon County Lady Lyons aren't without talent.
But Lyon's girls are looking for leadership after graduating lone senior Allison Murphy from last year's squad.
Murphy led the Lady Lyons in points last season with 11.6 a game and in rebounds with 10.6.
Murphy scored over 1,000 points as a Lady Lyon and also grabbed over 1,000 rebounds.
But Murphy also did a lot of things that don't necessarily show up on the stat sheet. Instead of looking to pad her stats, Murphy looked to get others on the team involved in the game. Her presence will be missed.
It will take a group effort from head coach Jeff Doom's squad this season to pick up the slack.
Rose Smith, a 5-foot-10 sophomore, may be first in line to take on more of the scoring role. Smith was second on the team with 6.7 points a game last season while grabbing 3.7 rebounds.
In the ball-handling department, junior KentTavia Matthews figures to have the ball in her hands more this year at the point.
Inside, junior forward Calista Collins will be counted on to improve her numbers on the glass. Collins was second on the team in rebounding last season at 6.7 a contest. She also averaged 4.8 points a game.
A two-sport star, Collins has committed to play college softball at Rutgers University in New Jersey. Collins was a first-team all-stater on the softball diamond for Lyon this past spring.
From the outside, the Lady Lyons will look for more scoring from freshman Cathryn Brown, another two-sport standout.
Brown was an all-region golfer this spring and finished 12th at the state tournament in Bowling Green.
On the basketball court last year, Brown was third on the squad at 6.0 points a game and led the team in free-throw shooting at 78.1 percent.
A large senior class will be counted on for leadership this season. That group includes Kayden Watts, Taylyn Sutton, LuLu Taylor, Ashleigh Butts, Ashlyn Doom and Isabella Ortiz.
Sophomore Hadlie Butler and freshmen Gracen Wynn and Ella Defew could also play key roles for this season for the Lady Lyons.
The Lady Lyons will open the season with three straight road games. Lyon plays at Caldwell County on Tuesday before traveling to Dawson Springs on Thursday. Then it's a trip to Livingston Central on Friday for the first 5th District date of the season.
Lyon's first home game is Saturday, Dec. 7, against Ohio County.
Lyon was district runner-up to Trigg County last season before bowing to Christian County in the first round of the 2nd Region tournament.
If things come together, the Lady Lyons could make another run at the district championship in 2019-2020.
Doom begins his 11th season at the helm of the Lady Lyons. Doom was the boys' head coach at Lyon from 1993-98.