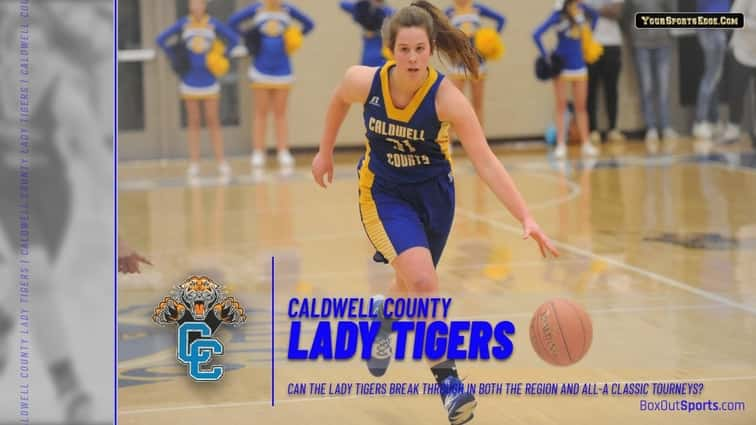 Former Caldwell County Lady Tiger head coach Malissa Thomas did not leave the cupboard bare for new head coach Chuck Mitchell.
Caldwell graduated just one player last season and returns the bulk of the team that not only went 13-16 last season but was 16-13 two years ago.
Experience shouldn't be a problem for the 2019-20 Lady Tigers, but it could take Caldwell's girls a little while to get accustomed to Mitchell's coaching style, which is more of a pressing and uptempo pace.
Three seniors will be counted on heavily, although Mitchell could run 10-11 players in and out each game.
Senior Bella McConnell led the squad in points and rebounds last year, with averages of 13.6 and 7.5. Despite standing just 5-foot-8, McConnell has spent much of her time in the post in the past.
McConnell is well on pace to become the 20th member of the Lady Tigers' 1,000-points club. She enters her senior season 27th on the career scoring list with 901 points.
Senior point guard Jada Boyd is within striking distance of the 1,000-points club as well but will need to pick up the scoring pace after getting 7.9 points a contest last season.
Lucy Goffinet, another senior, figures to start at a wing spot and heads into basketball after a strong season this fall with the Lady Tiger soccer team.
Junior Jacey Jaggers figures to be on the other wing but could play several roles. Jaggers was second on the team in scoring last season at 11.6 points a night while also averaging 6.0 rebounds. With 817 career points, Jaggers also figures to top the 1,000 plateau this season.
Mitchell said he could have several different starting lineups this season and that a lot of players are going to play.
Junior guard Majah Hollowell and junior forward Karsyn Parker both figure to see major minutes this season. Parker could be a key performer on the boards while Hollowell is a versatile player who could see action at several positions.
Junior forward Morgan McDaniels will be in the mix as well.
Newcomer Tamia Walker, a junior transfer from Clarksville Northwest, provides speed and depth in the backcourt.
Sophomore Parris Gray is a scoring option off the bench along with Jillian Choate, another sophomore.
Freshman guard A.J. Hollowell is a player to keep an eye on and brings a lot of athleticism to the lineup.
The Lady Tigers will open the regular season Tuesday when they face Lyon County in the first game of a girls and boys doubleheader at the CAB gym in Princeton.
Caldwell has its eye on the 2nd Region All A Classic in January. With a solid start to the season, the Lady Tigers could be the favorites to claim the regional crown in the "small school" event.
Mitchell, who took over the Caldwell job in the spring after a three-year run as an assistant at Paducah Tilghman, said he just expects his team to compete each night.
Originally from Louisa, Mitchell has over 20 years in the coaching ranks at both the high school and college levels. He was an assistant boys' coach at Rowan County when that school went to the state tournament and had a lengthy run as girls' head coach at Harlan, taking the Lady Dragons to two All A Classic state tourneys.
Mitchell also coached briefly at Livingston Central. He was girls' head coach at that school in the 2010-11 season.
Meanwhile, Thomas, a former standout player at Caldwell County, compiled a 120-137 record in nine seasons as head coach of the Lady Tigers. She led the team to 7th District championships in 2012, 2013, 2014 and 2018.
Caldwell was district runner-up to Madisonville-North Hopkins last season, falling to the Lady Maroons 62-58 in the district championship game.