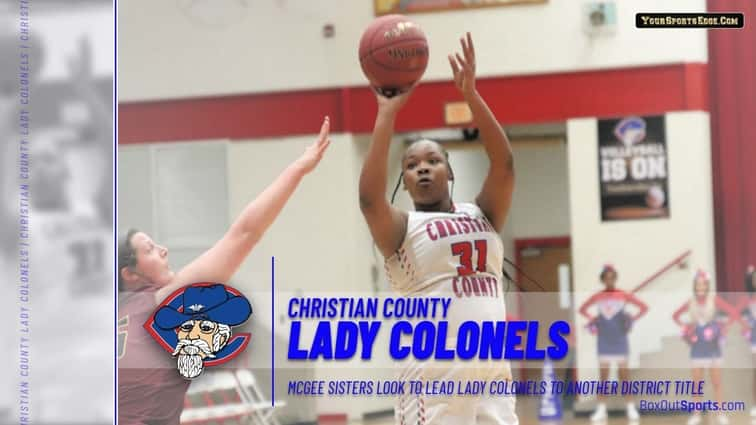 After four years of leading the Christian County girls' basketball team, guard Aaliyah Hampton is part of a strong group of perimeter players that have moved on, leaving the Lady Colonels looking to the paint in 2019-20.
After claiming a double-OT victory over Hopkinsville to earn their second-straight 8th-District title last season, the Lady Colonels fell 57-36 to Webster County in the 2nd-Region semifinals, bringing an end to the high school careers of Hampton and fellow guards Bianna Snorton and Kinara Phillips.
Hampton's 18.3 ppg led the team, followed by Snorton in 3rd with 8.9 ppg and Kinara Phillips with 5.8 ppg, good enough for 4th on the squad.  Hampton was also 4th in rebounds with 5.1 per game, while Snorton drained 45 3-pointers and Phillips chipped in 5.4 rebounds per outing.  Talitha Bryant also graduated, after posting 4.3 ppg and 5.8 rpg.
Junior Trinity McGee returns down low to lead the way in 2019-20, with Coach Kiki Radford saying McGee has expanded her shooting range and can step out on the perimeter as well.  McGee put up 8 ppg as a sophomore to go with a team-leading 6.6 rpg.
Senior Eniya McGee returns in the post as well, after recording 3.5 ppg and 4 rpg last season, with senior Lydashe Bell and junior Serenity Shemwell also ready to help out down low.
Sophomore Mikayah Killebrew has impressed in the preseason as a slasher and defensive specialist, while sophomore Destinee Catlett-Watkins will help handle the ball in the absence of Hampton.  Senior Lamontavia Forte will also be counted on to contribute in the back-court.
The Lady Colonels start the season on Tuesday with a trip to Muhlenberg County, looking to avenge a 63-53 loss to the Lady Mustangs in last season's opener.  A big district match-up with Hopkinsville looms on December 13, before the Lady Colonels go on the road for the holidays.
Christian County will play four games at the FNB Holiday Bash at South Warren to end 2019, before travelling to Russellville for the Cocoa Collier Classic and then to Bowling Green as a part of the Border Battle Classic to start 2020.
YSE's Scott Brown caught up to Coach Radford recently to get her thoughts on the upcoming season.