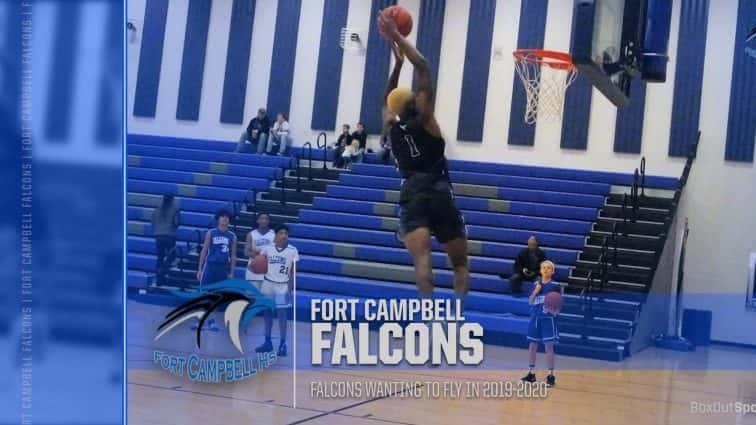 The Fort Campbell Falcons are looking to do something this season they have not done since 2009. With 2nd head coach Robbie Townsend at the helm, the Falcons are looking to advance to the 2nd Region tournament for the first time since the 2008-2009 season, when they upset UHA in the district semifinals and then lost a tough battle with Henderson County in the opening round of region tournament play.
The task of reaching the region tournament is no small one, as Fort Campbell finds itself playing in one of the best districts in the state, year in and year out. For the Falcons moving to the next level involves finding a way to knock off Christian County, Hopkinsville, or University Heights in the district opener.
The Falcons lost Doryan Hall and Cameron Johnson to graduation following the 2018-2019 season, and those will be some holes in the lineup that will be tough to fill. The good news is, it appears the Falcons have gotten a bit more athletic with the arrival of some members of the football team to the roster for the upcoming season.
Senior Cameron Pratt figures to lead the Falcons in scoring this season. During the Falcons two preseason scrimmages, Pratt averaged 21.5 points per game to lead Fort Campbell to a split of the games. Senior DeAndre Jackson will also add some offensive punch to the lineup. Sophomore KeShawn Daniels is a high flying presence in the middle for the Falcons, and may add some energy and excitement.
Senior Matt Middleton and junior Conner Brinkmeyer come over from the football team and should add some depth and physicality to the Fort Campbell lineup.
The Falcons finished last season at 5-21, and will be trying to end a 15 game losing streak when they tipoff the season at home December 5 against the Dawson Springs Panthers. While moving on to the regional tournament may be a tall task, considering the district the Falcons play in, there is the potential to take a step forward to a double digit win total for the season.