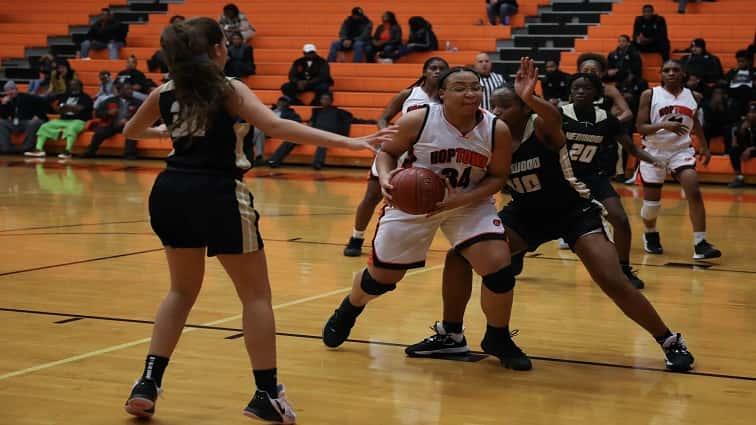 The Hopkinsville Lady Tigers continued a five-year run of opening-night victories, riding a 25-point performance from Donisha Flowers to a 52-44 victory over visiting Kenwood, TN Tuesday night at Tiger Gym.
With junior JaKayla Epps missing due to an ankle injury, Flowers scored 6 points to help the Lady Tigers to a 10-6 lead after the first quarter.  However, Hoptown went cold in the second quarter, managing only 3 points to trail 20-13 at the halftime break.
The Lady Tigers started the second half on an 11-0 run, capped by an and-1 by Flowers to take a 24-20 advantage.  The Lady Knights rallied to tie the game at 24-24, but Hopkinsville closed the quarter on a 10-3 spurt, with Flowers scoring the last of 10 third-quarter points on a pair of made free throws to stretch the margin to 7 points heading to the fourth quarter.
Hoptown's LaKayla Samuel started the final quarter with a 3-pointer and hit 1 of 2 free throws for a 39-31 lead, but after a 3-pointer by Dantaisha Brandt, the Lady Knights were back within 3 with 4:51 to play.
Shaterrea Bellamy came up with a steal and score followed by a putback basket from Dashiya Radford to restore the 8-point edge.  Flowers closed the show from there, scoring the Lady Tigers' last 7 points to hold off the Lady Knights.
Hopkinsville left lots of points at the free-throw line, hitting only 14 of 34 attempts, with Flowers hitting 9 of 25.  Flowers also hauled down a team-high 13 rebounds for the double-double, followed by Samuel with 12 points and 8 rebounds.  Bellamy added 9 points and Radford chipped in 7 rebounds.
Shayanna Vaughn led the Lady Knights with 11 points, followed by Reagan Fisher with 10.