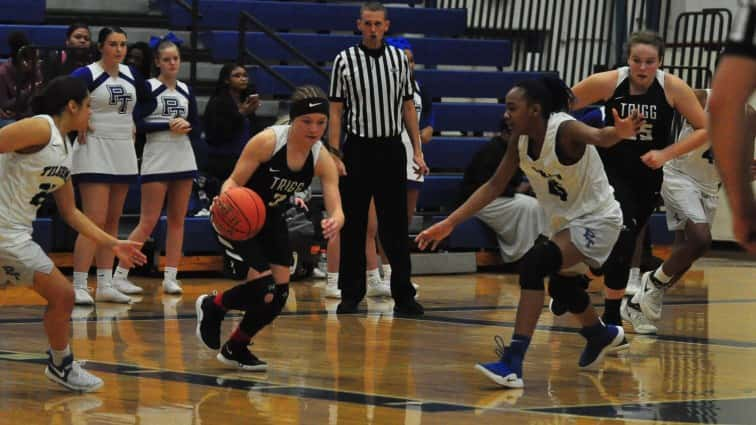 Paducah Tilghman used a 20-3 third quarter run to turn an 11-point halftime deficit into a 64-59 win over Trigg County Tuesday in the girls' basketball season opener for both teams.
Trigg County led 14-11 after one quarter and extended the lead to 33-22 at halftime.  However, fouls proved to be the difference in the game.  Trigg County had three players foul out – including their top two scorers from last year – in the fourth quarter after Tilghman mounted their big third quarter run.
The Lady Wildcats hit 9-of-24 free throws in the first half but weren't given much of a chance to correct in in the second half as they went to the line just six times.  Tilghman was whistled for 15 fouls in the first half and just eight in the second half.
Despite the foul obstacles and inability to hit better than 40-percent at the free throw line, the Lady Wildcats stayed within one possession until the two-minute mark.  Trigg got solid play off the bench from Kara Hyde (6 points), Iyanna Grubbs (3 rebounds, 3 assists), T.T. Grubbs (2 points, 4 rebounds).
Adri Phillips scored 15 points and grabbed seven rebounds before fouling out early in the fourth quarter.  Marleigh Reynolds also scored 15 points and had nine rebounds.  Olivia Noffsinger joined them with 13 points and six steals.  She hit two of Trigg's five 3-pointers in the game.
Paducah Tilghman got 19 points and 13 rebounds from Dasia Garland.  16 of her points came in the second half as the Lady Tornado hit 59-percent from the field.  Eleese Anderson added 12 points and 11 rebounds.
Trigg County will open district play Friday when they travel to Crittenden County.
Trigg Co.               14   19   12   14—59
Pad. Tilghman    11   11   22   20—64
Trigg County (0-1) – Phillips 15, Reynolds 15, O. Noffsinger 13, E. Noffsinger 8, Hyde 6, K. Grubbs 2
Paducah Tilghman (1-0) – Garland 19, Anderson 12, Gray 10, Biggers 8, Talley 6, Shannon 6, Jackson 2, Wurth 1