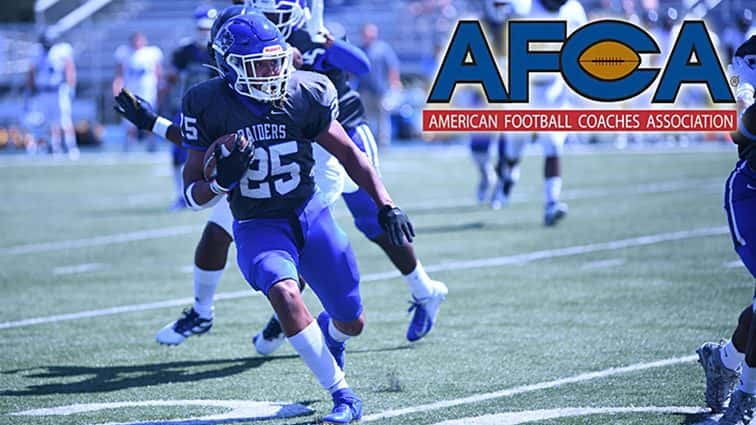 Former Caldwell County High School standout Jaylen Boyd has been named to the American Football Coaches Association-NAIA All-America Team, AFCA officials announced on Thursday.
Boyd was selected as the first-team all-purpose athlete. He becomes the third Blue Raider to earn the AFCA honor.
The Princeton, Ky., junior, has rushed for 1,030 yards this season — becoming just the third Blue Raider to eclipse 1,000 rushing yards in a single season. Boyd also has amassed 363 receiving yards and 330 kickoff return yards this season. He has scored 15 touchdowns this season.
Boyd ranks third in the NAIA with 1,723 all-purpose yards, including seventh in the nation averaging 143.6 all-purpose yards per game.
Boyd earned All Mid-South Conference Bluegrass Division first-team honors earlier this season.
He has helped the Blue Raiders reach the NAIA Football Championship Series Semifinals for the first time in the program's history while averaging 135 rushing yards per outing with three scores. The 135 rushing yards per game leads the FCS entering into this weekend's semifinals.
Meanwhile, Boyd's teammate, quarterback Cameron Dukes, has been named NAIA All-America Honorable Mention.
Dukes becomes the first Blue Raider to earn honorable mention football honors.
The Shepherdsville, Ky., junior, has amassed 3,219 passing yards this season with 35 touchdowns – one shy of a program single-season record. Dukes also has rushed for 311 yards with 11 rushing touchdowns.
He ranks fourth in total offense (3,530 yards) in the NAIA and fifth in passing efficiency (166.3) and passing yards this season. Dukes' 35 passing touchdowns are the third most in the NAIA this season.
Dukes was named the Mid-South Conference Bluegrass Division Offensive Player of the Year and first-team all-conference earlier this season.
According to the AFCA, the five teams now chosen for each AFCA division evolved from a single 11-player squad in 1945. From 1945 until 1967, only one team was chosen. From 1967 through 1971, two teams – University Division and College Division – were selected. In 1972, the College Division was split into College I and College II. In 1979, the University Division was split into two teams — FBS and FCS. In 1996, the College I and College II teams were renamed Division II and Division III, respectively.
From 1965-81, a 22-player (11 offensive, 11 defensive) team was chosen. In 1982, a punter and placekicker were added to the team. In 1997, a return specialist was added, giving us the current 25-player team. The return specialist position was replaced by an all-purpose player in 2006. In 2016, the AFCA added a second-team All-America.
The AFCA's NAIA All-America Selection Committee is made up of two or three head coaches from each of the AFCA's seven districts, one of whom serves as a district chairman, along with another head coach who serves as the chairman of the selection committee. The coaches in each district are responsible for ranking the top players in their respective districts prior to a conference call between the district chairmen and the committee chairman on which the team is chosen.
Members of the AFCA Coaches' All-America First Team will receive a plaque commemorating their selection to the team, while members of the second team will receive a certificate.
(Lindsey Wilson press release)