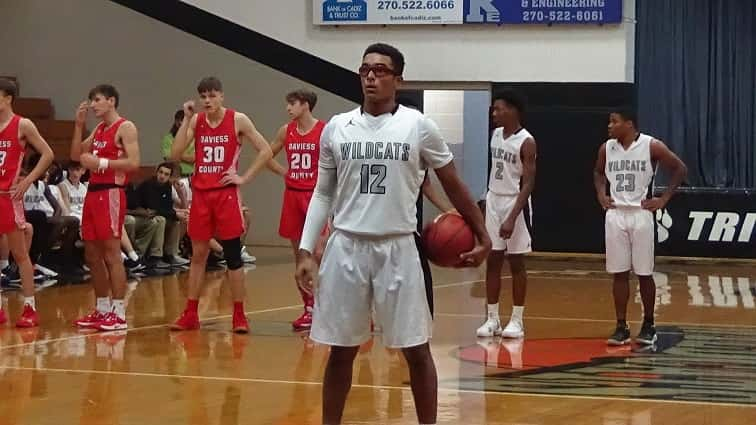 After finding themselves in a double-digit hole in the first half, the Trigg County Wildcats fought back to get within a basket of visiting Daviess County, but ultimately fell 65-53 Saturday at Wildcat Gym.  The Wildcats see their record evened a day after first-year head coach Chad Burgett picked up his first win with a blowout of Crittenden County.
The Panthers jumped out to an early advantage and led 14-5 after a 3-pointer by Logan Hillard with 3:20 left in the first, part of a 7-point quarter for the Daviess County senior.  Kendric Adams scored 4 for the Wildcats, but they trailed 18-9 after 8 minutes.
Daviess County continued to build the lead and doubled-up the Wildcats at 28-14, but Kion Thompson scored 6 points and Trigg closed the half on a 10-4 run to trail 32-24 at the break.
The Wildcats scored the first 6 points of the second half, including 4-straight from Khyran Vaughn to pull within a basket.  With 2:33 left in the third, Hayden Cunningham drained a corner 3 to get back within 3 at 38-35, but the Panthers ended the quarter on a 7-1 run.
After only scoring 4 points through the first three quarters, JaKobe Bridges came out hot in the fourth, knocking down back-to-back 3s and scoring the Wildcats' first 7 points to pull to 47-44.  With 4:40 left to play, Bridges connected on another 3 to once again get within a basket, but that would be as close as the Wildcats would get.  Daviess County ended the game on a 14-4 spurt to move to 3-0 on the season.
Bridges finished with 18, 14 in the fourth quarter, to lead the Wildcats, followed by Kion Thompson with 10 and Adams with 8.  Trigg left some points at the free throw line, shooting 7-17 for the game.
Cameron Johnson's 16 led the Panthers, joined in double figures by Bo Stratton with 14 and Hillard with 11.  Hillard was a perfect 7-7 from the charity stripe, while Daviess County finished 18-29 as a team.