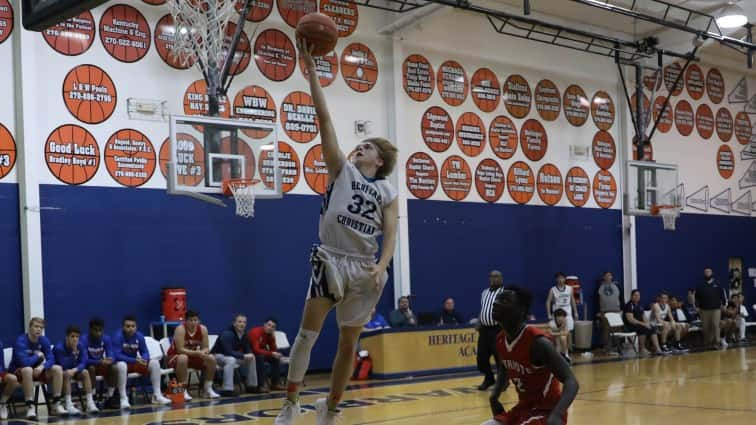 Heritage Christian Academy coach Matt McGowan is wanting his young Warrior squad to be more aggressive on offense and find more ways to get to the free throw line.  HCA was outshot by 18 free throws by South Haven, Tenn. in a 59-49 loss at Warrior Gym Monday.
HCA didn't attempt a free throw in the first half as they fell behind 21-10 after one quarter and 40-21 at intermission.  South Haven was 6-of-12 in the first half from the charity stripe and 14-of-24 for the game.
HCA was also bothered by South Haven's press.  The Patriots, from Springfield, Tenn., scored 23 points off 20 HCA turnovers.
In the second half, HCA was able to get back into the contest thanks to 44-percent shooting and questionable shot selection by South Haven.
HCA outscored South Haven 20-14 in the third quarter and trimmed a 20-point halftime deficit to 53-47 with 48 seconds left.  HCA used a 20-7 run to make things interesting.  South Haven hit all four free throw attempts in the final 48 seconds to hold off the Warriors.
Heritage shot 43-percent from the field and was 4-of-6 at the free throw line.  South Haven (8-1) was 14-of-24 at the charity stripe for the game and hit just 5-of-22 shots from the field in the second half.
The Warriors held a two rebound advantage but turned the ball over four more times than the Patriots.
Heritage Christian had two players score in double figures.  Weston Powell scored 12 points and pulled down 15 rebounds.  Elijah Britton had 10 points, three assists, and three turnovers.
Emmanuel Deng led South Haven with 19 points.
Heritage Christian (0-8) returns to action Thursday when they face KCAA foe North Hardin Christian.
South Haven                      21    19    5    14—59
Heritage Christian            10    11    8    20—49
South Haven (8-1) – Deng 19, Robertson 14, Atkinson 11, Martinez 8, Covington 4, Crawley 3
Heritage Christian (0-8) – Powell 12, Britton 10, Folz 6, Kay 6, Wadlington 5, Glover 5, Hayes 4, Gibson 1