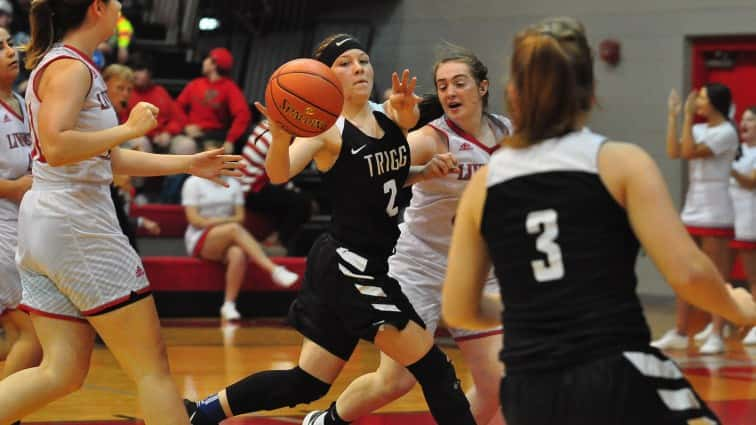 Trigg County used spurts at the start of the first and third quarters to hand Livingston Central a 50-35 loss Friday in Smithland.  The win marks the first time in 22 years that Trigg has won three straight games over Livingston Central.
The Lady Wildcats jumped out to a 13-3 first quarter lead, thanks mostly to converting Lady Cardinal turnovers into points.  However, when the shots weren't falling, that meant Trigg couldn't get into their press defense.  At one point, Trigg missed 18 of 20 shots from the field, and Livingston Central battled back to tie the game at 23.
Kara Hyde's bucket just before halftime gave the Lady Wildcats a 25-23 lead at intermission.
With a more aggressive approach, Trigg County scored the first 13 points of the second half to take control of the game.  Rylee Bush, who was scoreless in the first half, scored six of her team-high 14 points during the decisive run.
Trigg County led 38-29 after three quarters and extended their lead to as many as 17 in the fourth quarter.
The Lady Wildcats shot just 34-percent from the field but scored 23 points off 30 Livingston turnovers.  Trigg had chances to extend their lead but hit 12-of-30 at the free throw line.
Trigg got balanced scoring as their bench outscored Livingston's 10-2.  Bush led Trigg with 14 points and eight rebounds.  Olivia Noffsinger and Marleigh Reynolds both scored eight points.  T.T. Grubbs scored four points and pulled down 10 rebounds.
Gracie Downey and Lauren Wring both scored 15 points for Livingston Central (1-2, 0-2).
Trigg County improved to 3-1 overall, and they stand alone in first place in the district standings with a 2-0 mark.  The Lady Wildcats will host Lyon County Tuesday in their home opener at Wildcat Gym.
Trigg County                      14    11    13    12—50
Livingston Central            9     14     6       6—35
Trigg County (3-1) – Bush 14, O. Noffsinger 8, Reynolds 8, Phillips 6, E. Noffsinger 4, Hyde 4, T.T. Grubbs 4, I. Grubbs 2
Livingston Central (1-2) – Wring 15, Downey 15, Quertermous 2, Oropeza 2, Salazar 1