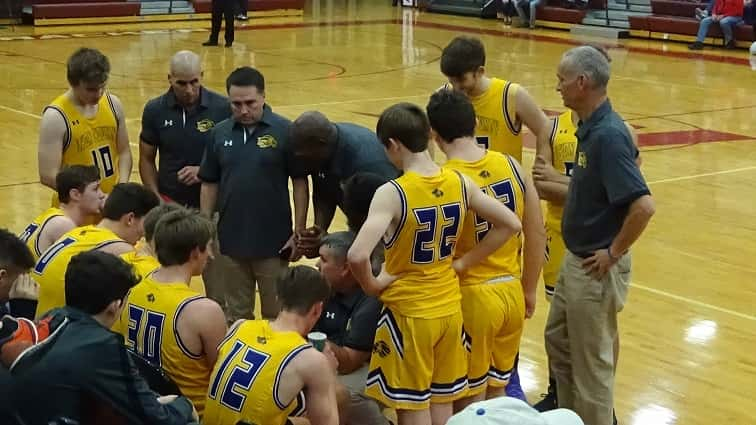 The Lyon County boys' basketball team earned its second win in less than 24 hours on Saturday evening, knocking off Carlisle County 80-69 in the Organ Donor Shootout at McCracken County High School.  The Lyons improve to 4-2 with a match-up with 4-1 Union County coming up on Monday in Eddyville.
With the Lyons up by a point late in the first quarter, Travis Perry knocked down a baseline jumper before providing the assist for a bucket by Kade Blackburn for a 17-12 lead after one.
Perry scored 4 of his 7 third-quarter points for a 21-15 edge, but the Comets were back within a basket after a runner by Reese Anderson with 4 minutes left in the half.  However, the Lyons closed on an 11-5 run capped by a Jackson Shoulders putback to lead 34-26 at the break.
Shoulders scored 4-straight out of the locker room, before being shaken up on a foul and forced to the bench for a short time.  His little brother, 8th-grader Brady Shoulders, filled in at the free throw line and connected on both attempts to stretch the margin to 13.  After a Perry steal and score and a bucket for Shoulders down low, the Lyons led 56-40 with a quarter to play.
Anderson scored 8 in the fourth quarter and the Comets made it interesting at 76-64 after a steal and layup by Garrett Hayden with 1:09 to go, but the Lyons held on for the win.
Shoulders posted 26 points to lead the Lyons, followed by Perry with 19 and Blackburn with 12.
Anderson finished with 19 for the Comets, Blake Elder had 12 and Hayden scored 11.