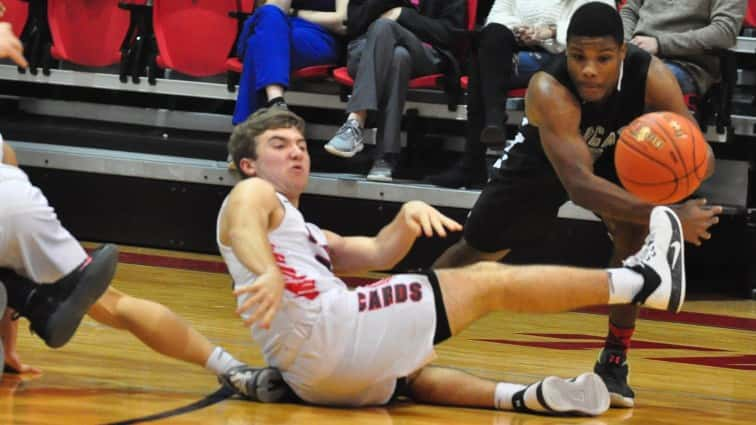 To use a golfing analogy, Trigg County birdied the first two holes and played par golf the rest of the way as they handed Livingston Central a 56-42 setback Friday in Smithland.
The Wildcats jumped out to a 13-2 lead after one quarter but a mix of poor shot selection and foul trouble kept Livingston Central in the contest.
The one area the Wildcats excelled in was their ability to attack the Cardinal 2-3 zone and get to the free throw line.  Trigg hit 20-of-32 at the free throw line for the game, and they needed every one as they shot just 26-percent from the field, including 4-of-25 behind the arc.
Trigg scored 18 points off 23 Livingston turnovers and built their second half lead to 20 points before settling for the 14-point win.
The Wildcats had three players score in double figures.  Kion Thompson led the way with 15 points.  8th grader Jhaden Vaughn scored 13, including a 7-of-10 night at the free throw line.  Hayden Cunningham came off the bench to score 10 points and grab 11 rebounds.
John Barnes scored 16 points for Livingston Central (0-5), who has failed to reach 50 points offensively in their first five games.
Trigg County, meanwhile, has held three of their first four opponents to less than 50 points.  The Wildcat win sets up a showdown Tuesday when they host Lyon County in a matchup between 2-0 teams in the Fifth District.
Before Tuesday, the Wildcats make the long trip to Breathitt County Saturday to play Wolfe County (4-0) in the Peggy Moore Classic.  It's the first-ever matchup between the schools on the hardwood.
Trigg County                      13   13   9   21—56
Livingston Central            2    10  11  19—42
Trigg County (3-1) – Thompson 15, J. Vaughn 13, Cunningham 10, Miles 7, Bridges 5, K. Vaughn 4, Terrell 2
Livingston Central (0-5) – J. Barnes 16, Zaim 8, Wring 6, Ramage 4, Johnson 3, D. Barnes 2, Garrett 2, Goodaker 1