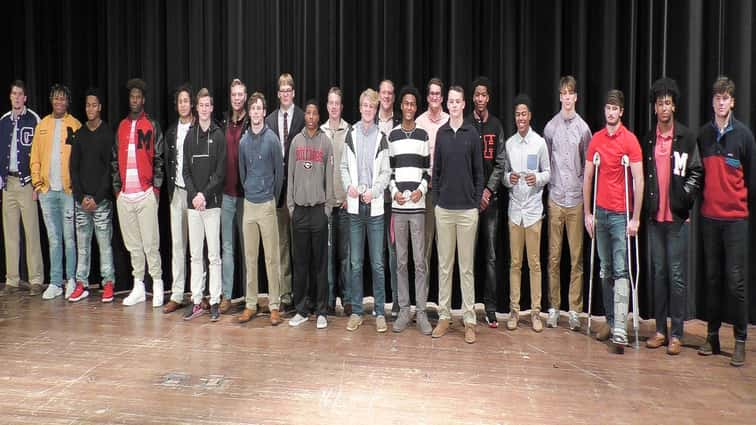 Mayfield and McCracken County had the most selections to the All Western Kentucky Conference football team announced Wednesday at the WKC Banquet in Draffenville.
Mayfield had nine selections to the team, which is voted on by the WKC coaches and consists of schools in all six classes.  McCracken County had five players named to the team.
Madisonville (3) and Hopkinsville (2) were the only other schools with multiple players named to the squad.
All WKC Defense
DL – Denarius Barnes – Hopkinsville
DL – Tre Arnold – Mayfield
DL – Leandre Bolen – McCracken County
DL – Sebastian Lawrence – Murray
LB – Cody Goatley – Graves County
LB – Jax Rogers – Mayfield
LB – Tyler Boone – Crittenden County
DB – Jakobe Bridges – Trigg County
DB – Travon Haliburton – Mayfield
DB – Kolton Reeves – McCracken County
DB – Alonzo Daniel – Mayfield
P – Micah Hailey – Mayfield
All WKC Offense
OL – Blake Moody – Madisonville
OL – Miller Blakley – McCracken County
OL – Colin Price – Mayfield
OL – Jordan Vaughn – Madisonville
OL – Trevor Harmon – Paducah Tilghman
WR – Reece Jesse – Hopkinsville
WR – Franklin Hayes – McCracken County
WR – Cade Neely – Mayfield
RB – Hunter Bradley – McCracken County
RB – Jeriah Hightower – Madisonville
QB – Jayden Stinson – Mayfield
K – Micah Hailey – Mayfield
2019 WKC Football Banquet