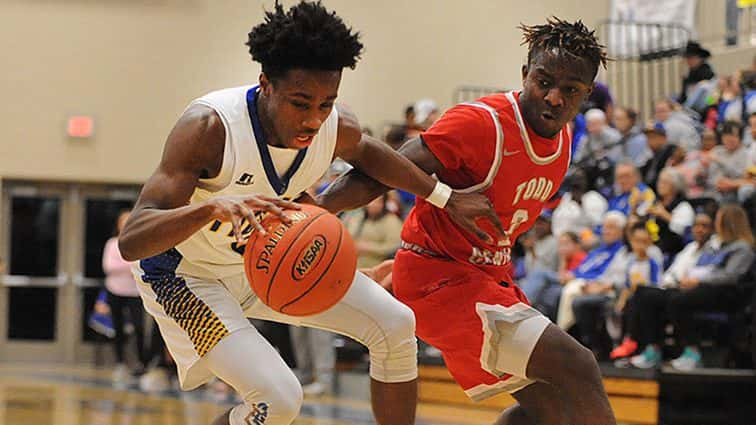 Caldwell County led wire-to-wire in claiming its first win of the season, but the Tigers had to withstand a late rally from Todd County Central to claim a 54-49 decision on Tuesday.
Adarius Riley had 14 points and Tripp Branch added 12 for Caldwell, which scored the first eight points of the night at the CAB gym in Princeton.
Austin Rager got Todd Central (2-3) as close as 10-9 with a 3-pointer.
But Caldwell (1-5) got back-to-back treys from Branch and T.J. Ray and went on to build a double-digit advantage at 22-12 in the second quarter.
The visiting Rebels closed to within 29-24 at halftime and were within 33-29 before Caldwell again extended the margin to double figures at 42-31.
Caldwell took a 42-35 lead to the final quarter and was up 50-41 following a Riley bucket with 3:10 to play.
Another Rager 3-pointer helped Todd make another run. An eight-footer from Amari Andrews pulled the Rebels within 52-48 with 1:23 remaining in the game.
But that's as close as Todd could get.
Riley scored in close to put Caldwell up by six. He then took a charge at the other end to thwart Todd's next possession.
Jamarius Blaine added eight points for Caldwell and Cole Smiley had six.
Rager and Deonte Toliver each scored 14 points for Todd. D.J. Johnson had 10 points and Dominique Morrow scored nine.
Todd Co. Central    9   15   11   14 — 49
Caldwell County    18  11   13   12 — 54
Todd County Central (2-3) — Rager 14, Toliver 14, Johnson 10, Morrow 9, Andrews 2.
Caldwell County (1-5) — Riley14, Branch 12, Blaine 8, Smiley 6, Ray 5, Fraliex 5, Spikes 4.