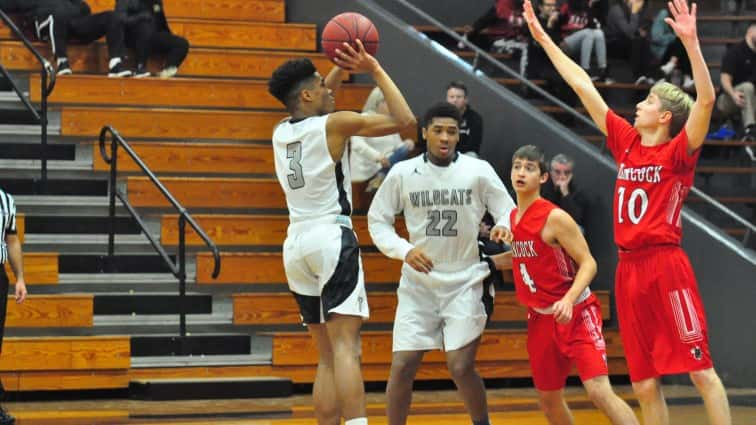 Trigg County found a lump of coal in their basketball stocking Friday as Hancock County handed the Wildcats a 72-63 loss in the KME Christmas Classic at Wildcat Gym.
Hancock County, which had failed to score 50 points in each of their first six games, found the Wildcat Gym rims to their liking.  The Hornets shot 48-percent from the field and was able to turn back any Wildcat rally by hitting their first 14 free throw attempts and finished 31-of-38.
Trigg County, playing without leading scorer Kion Thompson (coach's decision), shot just 32-percent from the field, which limited their ability to get into a press defense.  Trigg County also got to the free throw line 38 times, hitting 24.
The Wildcats never led in the game, falling behind 11-4 in the first quarter.  Hancock led by as many as 21 points in the first half.  Trigg was able to cut the deficit to eight points in the third quarter but got no closer.
Trigg County got 40 of their 63 points from a pair of eighth graders.  Jordan Miles hit four 3-pointers and was 10-of-12 at the free throw line for a career-high 30 points.  Jhaden Vaughn added 10 points.
Hayden Cunningham also scored 10 points before fouling out in the fourth quarter.
Hancock County (2-5) had five players score in double figures with Devyn Powers coming off the bench to score 19 points.
Trigg County (3-4) will look to snap a three-game skid Saturday when they play St. Mary in the consolation game at 6pm.  St. Mary lost to Graves County 58-39 in the opening game Friday.
Hancock County               18    20    14    20—72
Trigg County                      13    10    20    20—63
Hancock County (2-5) – Powers 19, Curry 12, Wethington 12, Elder 11, Keown 11, Ferry 3, Ogle 2, Dixon 2
Trigg County (3-4) – Miles 30, Cunningham 10, J. Vaughn 10, Adams 7, K. Vaughn 5, Bridges 1