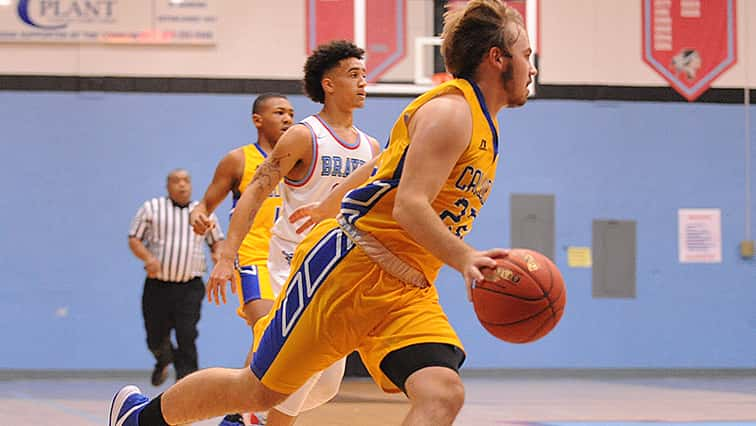 When Union County bolted to a quick 9-0 lead, it looked like four games in five days might be too much for Caldwell County.
But the Tigers turned things around in a big way.
Caldwell came back to take a 34-31 lead to halftime, pushed the margin to as much as 16 points in the second half, and held on for a 76-68 victory Saturday afternoon.
It was the fourth-straight win for Caldwell (4-5), which turned back Todd County Central, Dawson Springs, Russellville and Union County this week.
Tripp Branch was 7 of 11 from 3-point range and finished with 28 points to help spearhead the Caldwell attack.
Kale Gaither poured in 35 points for Union (4-3), which led 17-14 after one quarter.
The Braves held the lead for most of the first half.
Caldwell's first lead didn't come until 1:28 left before the break, which T.J. Ray scored from in close to give the Tigers a 29-28 advantage.
Branch hit three treys in the third period, helping put Caldwell up 51-35 at the 1:46 mark of the third period.
The Tigers led 56-40 entering the fourth quarter, and were still up 68-52 with 1:42 to go.
Gaither scored the final 13 points of the game for Union, but the Braves could get only as close as eight points in the closing seconds.
Adarius Riley and Cayden Fraliex had 12 points apiece for Caldwell while Jamarius Blaine added nine.
Keishon Martin added 12 points for Union.
Caldwell is now off until next weekend's West Kentucky Hoops Classic in Princeton. The Tigers will play Southwind, out of Memphis, at 3:30 p.m. on Friday before facing Clarksville Northeast next Saturday at 8 p.m.
Caldwell County    14   20   22   20 — 76
Union County         17   14     9    28 — 68
Caldwell County (4-5) — Branch 28, Riley 12, Fraliex 12, Blaine 9, Smiley 6, Spikes 5, Ray 2, East 2.
Union County (4-3) — Gaither 35, Martin 12, King 8, Kanipe 6, Johnson 4, Mackey 3.