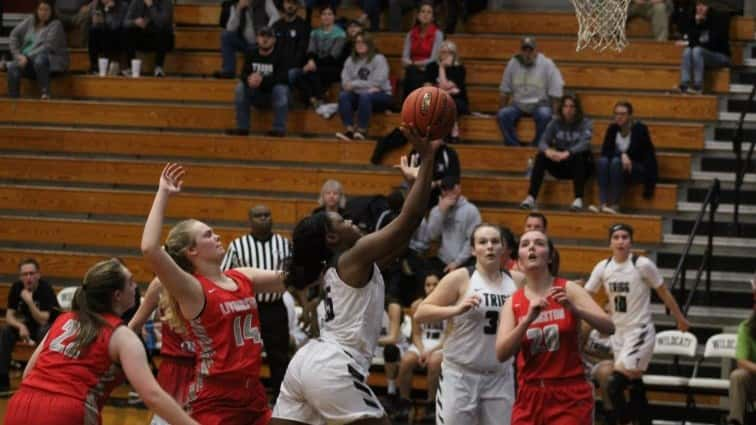 Trigg County's formula through their first 13 games has been to wear down their opponents and use a second half knockout punch to grab the win.  The Lady Wildcats continued that formula Friday with a 71-46 win over Livingston Central at Wildcat Gym.
Trigg led by nine points heading into the fourth quarter and then hit 9-of-15 from the field and 7-of-9 at the line to outscore Livingston 27-11 in the final frame to secure the win.
Trigg County's 11-2 start is the best in school history, bettering the 10-2 mark set by the 1989-90 team.
The Lady Wildcats built an early lead thanks to gaggle of Livingston Central turnovers.  The Lady Cardinals, playing their first game in two weeks, committed 19 miscues that led to 13 Trigg points.
Up 20-13 in the final minute of the first half, Olivia Noffsinger hit 3-pointers on consecutive trips to put the Lady Wildcats ahead 26-13 at halftime.
Lauren Wring, held to two points in the first half, scored 10 third quarter points as the Lady Cardinals trimmed a 20-point Trigg lead to nine by the end of the quarter.  Wring finished with 14 points and 11 rebounds for the Lady Cardinals.
Marleigh Reynolds scored 13 points and grabbed 17 rebounds for the Lady Wildcats.  Olivia Noffsinger also scored 13 points.  Adri Phillips had 11 points and six rebounds, and Kara Hyde came off the bench to score a career-high 10 points.
Trigg got another solid game off the bench from Iyanna Grubbs, who contributed nine points and five steals.
Kerah Davidson had seven points and 18 rebounds for Livingston Central, who dropped to 2-5 overall and 0-4 in district play.
The Lady Wildcats, who improved to 4-0 in district play, will host Hopkins County Central Monday in the first round of the Class 2A Championships.
Livingston Central              8    5    22   11—46
Trigg County                        14   12   18   27—71
Livingston Central (2-5) – Wring 14, G. Downey 9, Joiner 9, M. Downey 7, Davidson 7
Trigg County (11-2) – O. Noffsinger 13, Reynolds 13, Phillips 11, Hyde 10, I. Grubbs 9, E. Noffsinger 8, Bush 5, T.T. Grubbs 2