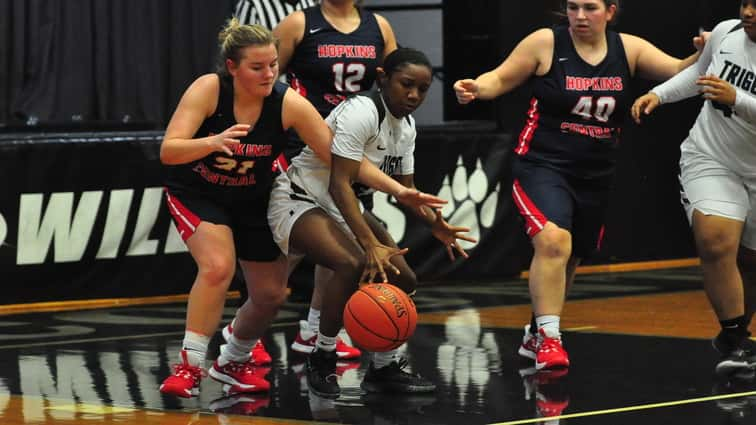 Trigg County started strong and finished strong in beating Hopkins County Central 48-29 Monday in the quarterfinals of the Class 2A Sectionals at Wildcat Gym.  The Lady Wildcats will play Union County in Saturday's semifinals at Calloway County.
Trigg scored the first 15 points against a Lady Storm team playing without their leading scorer Madison Grigg (17.2 ppg.) due to injury.  The Lady Wildcats pounced early, using their press to force eight first quarter turnovers in building their lead.
Hopkins Central trailed 12-0 after one quarter and didn't score until the 6:45 mark of the first half.  Despite the big lead, Trigg just maintained the rest of the first half, leading 25-10 at halftime and 30-18 after three quarters.
Olivia Noffsinger hit three 3-pointers to start the fourth quarter and push the Lady Wildcat lead to 41-22.  The freshman guard hit 5-of-7 from deep and finished with 15 points.
Adri Phillips added 15 points and four rebounds, and Marleigh Reynolds scored seven points and pulled down eight boards — second to only Rylee Bush's 12 rebounds.
Hopkins County Central (3-7) got nine points each from Briana Fritz and Keli Reynolds, with Reynolds grabbing nine rebounds.
Trigg County scored 21 points off of 30 Lady Storm turnovers.
The Lady Wildcats continue their best start in school history with a 12-2 mark.  They will host University Heights Academy Tuesday at Wildcat Gym.
This is the second year for the Class 2A Championships, designed for schools to large for the All-A Classic but under 1,000 students in size.  Calloway County will host Saturday's semifinals and Sunday's championship games.
Hopkins Central         0    10    8    11–29
Trigg County               12   13     5    18–48
Hopkins Central (3-7) — Fritz 9, Reynolds 9, Whitaker-Greer 6, Caldwell 3, Peyton 2
Trigg County (12-2) — O. Noffsinger 15, Phillips 15, Renolds 7, Bush 4, E. Noffsinger 3, I. Grubbs 2, Alexander 2