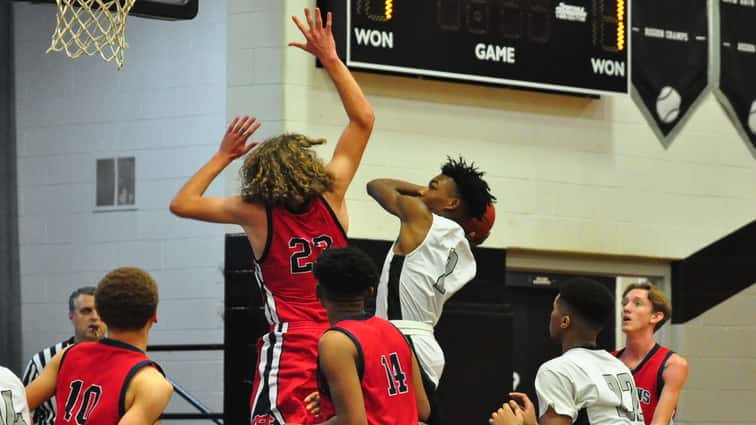 Kion Thompson hit a pair of important 3-pointers, and the Vaughn brothers proved to be too much for Hopkins County Central in a 52-51 overtime win over the Storm Monday at Wildcat Gym.  The game was a Class 2A Championships sectional game and moves the Wildcats into Saturday's semifinal.
Trigg struggled to solve Hopkins Central's zone for over three quarters, trailing for most of the contest.  Thompson hit a 3-pointer with 3:50 left that gave the Wildcats their first lead of the second half at 39-37.
The Storm battled back and took a 43-41 lead on a Sam Almon layup with 1:31 left.  Hopkins Central had two opportunities late to make it a two-possession game but hit just 8-of-14 free throws in the second half.
Thompson's 3-pointer from the right corner with six seconds left tied the game at 46 and produced bonus basketball.  In the overtime, four different Wildcats scored as Almon opted to drive to the basket with eight seconds left and take the easy bucket instead of a 3-pointer.
On a night where they shot just 29-percent from the field, Trigg County took care of the basketball with only one turnover in the fourth quarter and overtime.
Thompson finished with 12 points — all in the second half — to lead the Wildcats.  8th grader Jhaden Vaughn added 10 points and 10 rebounds, and Khyran Vaughn added 10 points and 11 rebounds.
Almon led Hopkins County Central (0-12) with 18 points.  Blasin Moore added 13 points and 13 rebounds.  Marcus Eaves came off the bench to score eight points and grab four rebounds.
Hopkins Central outrebounded Trigg 41-36 but committed 19 turnovers to 16 for Trigg.
Trigg County (6-7) has won three straight games and will play Union County Saturday at 7:30 in the Class 2A Sectionals semifinals at Calloway County.
Hopkins Central         6     14     10     16    3–51
Trigg County                5     12      11      18   6–52
Hopkins Central (0-12) — Almon 18, Moore 13, Eaves 8, Winn 7, Miller 3, Peyton 2
Trigg County (6-7) — Thompson 12, J. Vaughn 10, K. Vaughn 10, Miles 8, Bridges 5, Adams 4, Cunningham 3