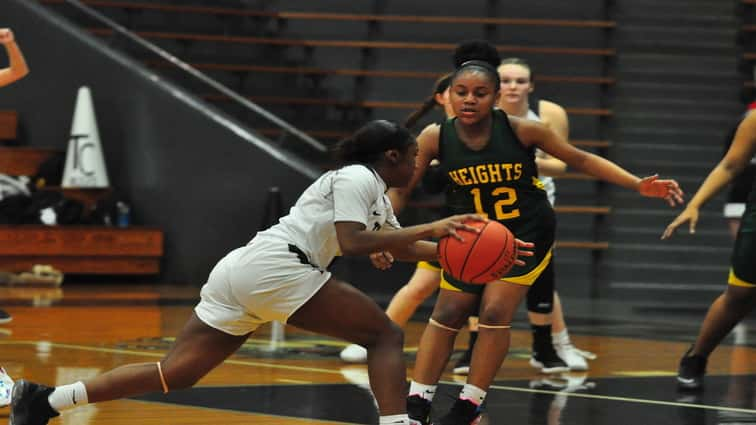 If there is one thing Derrick Hickman has learned to to in his first season as University Heights Academy girls' basketball coach, it's how to coach a short-handed team.
Playing without leading scorer Lily Hendricks, UHA led for most of the first half before falling 47-38 at Trigg County Tuesday.  Hendricks and her 13 points per game will be out of the Lady Blazer lineup for a few games while she seeks treatment for an injury.
They didn't miss her early as the Lady Blazers jumped out to a 15-9 lead after one quarter.  UHA extended the lead to 19-15, but Trigg ended the half on a 10-2 run to take a 25-21 lead into intermission.
Meghan Adams scored five of UHA's 11 points in the third quarter as the Lady Blazers battled back to nab a 32-31 lead after three quarters.
However, Trigg County finished strong in the fourth quarter.  Adri Phillips scored seven of her 14 points in the final frame, and Marleigh Reynolds added four points as the Lady Wildcats outscored UHA 16-6 in the quarter.  Reynolds finished with a game-high 17 points.
Trigg County was able to put the game away by hitting 10-of-12 free throws in the fourth quarter and 16-of-28 for the game.  That was a welcome sight as Trigg shot just 24-percent from the field and missed 20 of their 21 attempts behind the 3-point arc.
Seventh grader Alecia Davis and eighth grader Harmoni Wright both scored seven points for UHA (5-9).  The Lady Blazers also played short-handed over the Christmas break, missing three starters in their four games at the Lady Warrior Classic in Paducah.  UHA went 2-2 in those games.
The Lady Blazers host Hopkinsville Friday in an 8th District game.
Trigg County continues their solid start to the season with a 13-2 record.  The Lady Wildcats will play Union County Saturday at 4pm at Calloway County in the sectional semifinals of the Class 2A Championships.
University Heights         15    6    11    8–38
Trigg County                     9    16    6   16–47
University Heights (5-9) — Wright 7, Davis 7, Adams 6, Miller 6, Forte 5, Daniel 4, Dailey 2, Rager 1
Trigg County (13-2) — Reynolds 17, Phillips 14, O. Noffsinger 6, Bush 5, E. Noffsinger 2, T.T. Grubbs 2, I. Grubbs 1