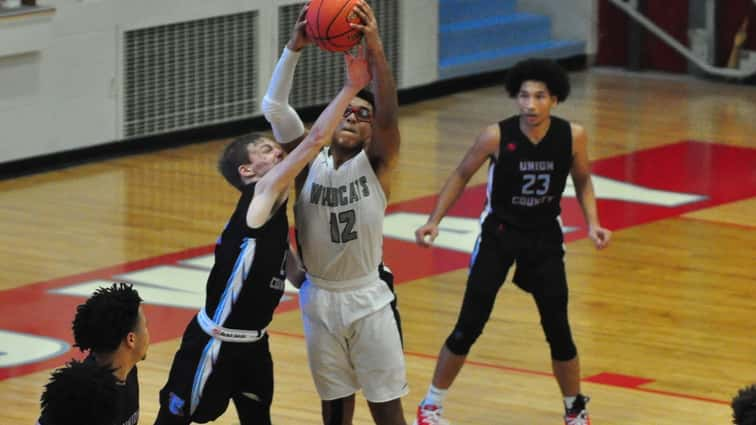 Just as they did in their Class 2A Sectional opener Monday, Trigg County did just enough down the stretch Friday to grab a win and advance in the second-year tournament. The Wildcats rallied to beat Union County 53-48 and set up a championship match Saturday against Calloway County.
Trigg needed overtime Monday to edge Hopkins County Central to advance to Friday's game. The Wildcats ended the game on a 30-14 run against the Braves to ensure no extra period was needed in the semifinals.
The Wildcats led 13-8 after one quarter but Union County rallied to take a 24-23 lead at halftime with Izaiah Manuel and Ethan Corbett both scoring six points. The Braves are minus two starters and a key reserve who are no longer on the team. However, Manuel and Kaleb Kanipe each scored six points in the third quarter as Union County built a 34-23 lead. Trigg didn't get on the board until 3:23 was left in the frame.
Trigg made a more concerted effort to get the ball inside in the final minutes of the third quarter, and Kendric Adams was the main beneificiary. Adams scored six points in the final three minutes as the Wildcats pulled to within 38-36 with eight minutes to play.
The Wildcats began the final quarter on a 7-0 run and didn't relinquish the lead.
Kion Thompson scored eight of his 11 points in the first half for Trigg. Jakobe Bridges added 10 points, and Jordan Miles and Adams both scored nine points. Jhaden Vaughn had six points and six steals.
Union County (6-8) got 18 points from Manuel and 12 points for Corbett. Kaleb Kanipe scored 10 points and grabbed 18 rebounds.
Neither team shot the ball well from the field (Trigg 35%; Union 34%) or at the free throw line (Trigg 46%; Union 23%). Trigg did manage to score 16 points off 25 Union turnovers that proved to be the difference.
Trigg County has won four straight games and will play Calloway County Saturday at 6pm in the sectional championship at Calloway County. The winner advances to next week's Class 2A Championships State Tournament in Owensboro.
Union County       8     16     14    10–48
Trigg County        13    10     13    17–53
Union County (6-8) — I. Manuel 18, Corbett 12, Kanipe 10, Martin 7, Hughes 1
Trigg County (7-7) — Thompson 11, Bridges 10, Miles 9, Adams 9, K. Vaughn 8, J. Vaughn 6