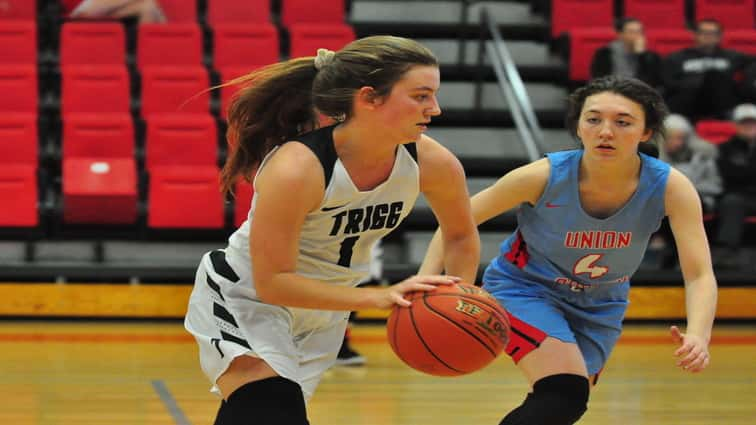 The Trigg County Lady Wildcats have advanced to the championship game of the Class 2A Sectionals following a 40-25 win over Union County Saturday in Murray. The win is Trigg's tenth straight victory which extends their school record streak.
The Lady Wildcats began the game with one of their better quarters of the season. Trigg hit three 3-pointers and shot 50-percent from the field in racing out to a 16-8 lead after the first eight minutes. Adri Phillips had seven points in the frame to pace the Lady Wildcats.
Trigg extended their lead to 24-8 before Union County ended the second quarter with five straight points. Trigg took a 24-13 lead into the locker room at halftime.
Both teams found the scoring tougher to come by in the second half. Trigg connected on 3-of-17 shots from the floor, while Union County hit 5-of-18. The Lady Wildcats were able to hit 6-of-9 free throws in the fourth quarter and 13-of-21 for the game to keep Union at bay.
Trigg County got a balanced scoring effort, led by Rylee Bush's double-double of 11 points and 13 rebounds. Olivia Noffsinger added nine points and five steals, and Phillips and Marleigh Reynolds each scored seven points.
Union County (7-6) got seven points from freshman Madison Morris. The Bravettes were playing the game without leading scorer Mati Hagan (11.1 ppg.) who will miss extended time with a broken collarbone.
The win was Trigg's first over Union County since 1992 and snapped an eight-game losing streak to the Bravettes. The Lady Wildcats will look to snap another losing streak in Sunday's championship game. Trigg County will face Calloway County, a 58-53 winner over Webster County in the other semifinal. Trigg has dropped 11 straight games to Calloway dating back to 1984 and have never beaten the Lady Lakers on their home floor.
The 2A Sectional Championship will be played Sunday at 3pm.
Union County       8     5     4     8–25
Trigg County        16    8     8     8–40
Union County (7-6) — Mad. Morris 7, Mol. Morris 6, Beaven 5, Roberson 4, Jenkins 2, Hibbs 1
Trigg County (14-2) — Bush 11, O. Noffsinger 9, Phillips 7, Reynolds 7, T.T. Grubbs 5, I. Grubbs 1