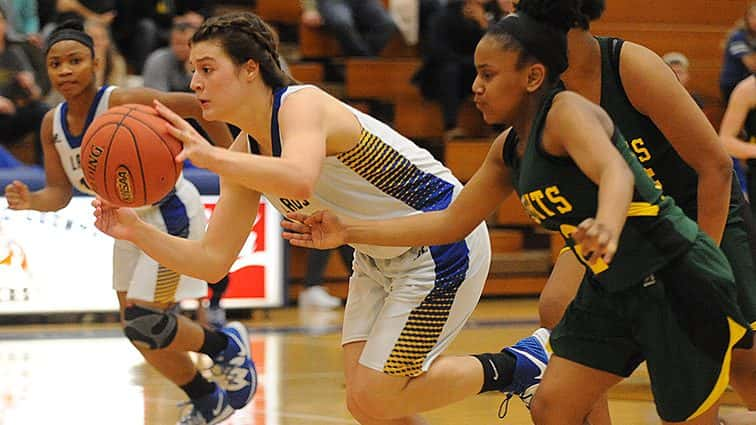 Caldwell County dialed long distance to generate some offense against University Heights Academy.
The Lady Tigers were 7-of-20 from 3-point range and rode a hot start to a 49-37 win Monday night in an opening round matchup in the 2nd Region All A Classic.
Majah Hollowell opened the game with a 3 for Caldwell. Jada Boyd added another 3 in the opening frame as the Lady Tigers built a 12-5 lead after one quarter.
Morgan McDaniels connected from long range as part of an 11-0 run to start the second period. A shot from in close by Lucy Goffinet gave Caldwell a 23-5 lead with 1:55 left in the first half.
UHA (5-11), the defending regional champion in the All A Classic, got back to within 25-12 at halftime.
The Lady Blazers then closed to within 26-18 when Meghan Adams scored from the inside midway through the third quarter.
But a pair of Hollowell 3s helped Caldwell rebuild its double-digit lead, and the Lady Tigers went up 36-23 through three quarters.
Two more treys midway through the fourth period from Hollowell and Boyd helped Caldwell equal its biggest lead of the night at 47-29.
Boyd was 2-for-4 behind the arc and finished the night with 21 points. Hollowell was 4-of-7 from long range and had 15 points for the Lady Tigers. Karsyn Parker grabbed 10 rebounds to go with two points
Caldwell played for the third straight game without leading scorer Jacey Jaggers. Meanwhile, Bella McConnell, who is second on the team in scoring, played despite being under the weather and finished with six points.
University Heights got 14 points from Meghan Adams. Clarissa Miller had nine points. Lily Hendricks scored seven points for the Lady Blazers but has been slowed by back problems.
Caldwell (8-6), which has won four of its last five games, advances to the semifinals and will play again Thursday night. The Lady Tigers will face Crittenden County at 6 p.m. at Dawson Springs.
The Lady Rockets advanced with a 46-35 win over Livingston Central on Monday.
The girls' 2nd Region All A Classic championship game is set for 4 p.m. Saturday in Dawson.
University Heights   5    7    11   14 — 37
Caldwell County      12   13   11   13 — 49
University Heights (5-11) — Adams 14,Miller 9, Hendricks 7, Davis 4, Dailey 3.
Caldwell County (8-6) — Boyd 21, M. Hollowell 15, McConnell 6, McDaniels 3, Goffinet 2, Parker 2.