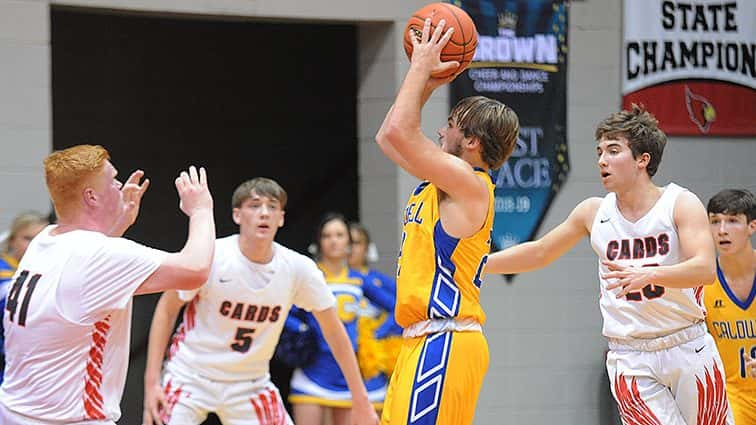 Caldwell County took control of Tuesday's All A Classic matchup at Livingston Central early.
The Tigers scored the first 11 points of the night and opened the game with an 18-2 run.
Caldwell led 26-6 after one quarter and 43-20 at halftime. The Tigers went on to post a 72-44 victory while advancing to Friday's semifinal round.
Cayden Fraliex led a balanced offensive attack for the Tigers with 15 points. Adarius Riley and Cole Smiley each scored 11 points while Jabrion Spikes had 10. Tripp Branch added nine points and Jamarius Blaine had eight.
Caldwell hit eight 3-pointers in the first half to take control of the contest.
John Barnes led Livingston (0-17) with 14 points.
The Tigers have now gone 7-3 since opening the season with five straight losses.
Caldwell will carry a 7-8 mark into Friday's late semifinal game against Fort Campbell. The Falcons had a first round bye in the 2nd Region All A tourney.
Friday's game is slated for 7:30 and will be played at Livingston Central.
Caldwell County      26   17   9   20 — 72
Livingston Central   6   14   13   11 — 44
Caldwell County (7-8) — Fraliex 15, A. Riley 11, Smiley 11, Spikes 10, Branch 9, Blaine 8, Ray 4, East 2, G. Riley 2.
Livingston Central (0-17) — Barnes 14, Garrett 8, Downey 6, Ramage 5, Cossey 4, Goodaker 4, Zaim 2, Wring 1.