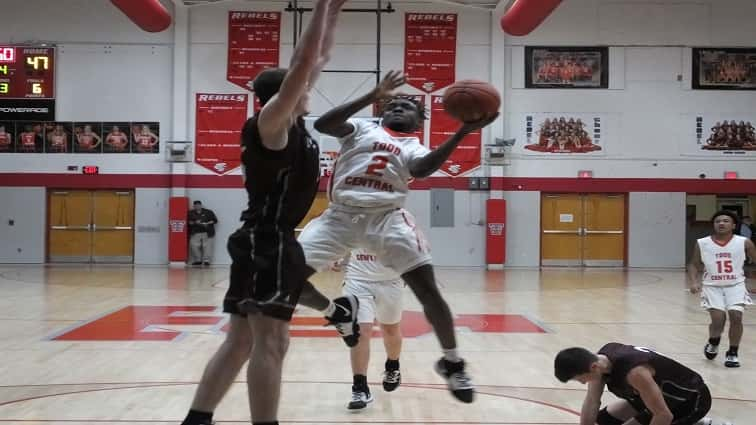 The Todd County Central boys' basketball team got off to a strong start in Monday night's 4th-Region All "A" meeting with Metcalfe County, taking a second-quarter lead before falling victim to a second-half run on the way to an 83-64 loss to the Hornets.  Metcalfe County moves on to face Clinton County in the semifinals on Thursday.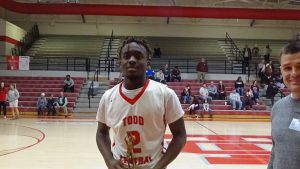 Deonte Toliver scored 6 first-quarter points and the Rebels led 12-11 after a layup by Amari Andrews with 3:18 left in the first, but the Hornets closed the quarter on a 10-4 run to lead by 5.
The Rebels opened the second on an 8-2 spurt to take a 24-23 lead on two free throws by Toliver, but Boston Devore had the hot hand with 7 points and Jax Allen scored the last of his 5 second-quarter points with just under a minute left to give Metcalfe a 39-30 halftime lead.
The Hornets stretched the margin to double digits early in the second half, but the Rebels were back within 8 at 45-37 after Austin Rager scored in the lane.  Devore poured in 13 more and Metcalfe reeled off a decisive 16-2 run to build a 61-39 advantage.  The final 19-point margin was as close as the Rebels got during the fourth quarter.
Metcalfe County          21    18    29    15 — 83
Todd County Central  16    14    17     17 — 64
Metcalfe County (9-7) — Devore 27, Allen 19, Fields 11, Dial 10
Todd County Central (2-14) — Toliver 18, Rager 11, Morrow 8, Galima 6, Stuard 6