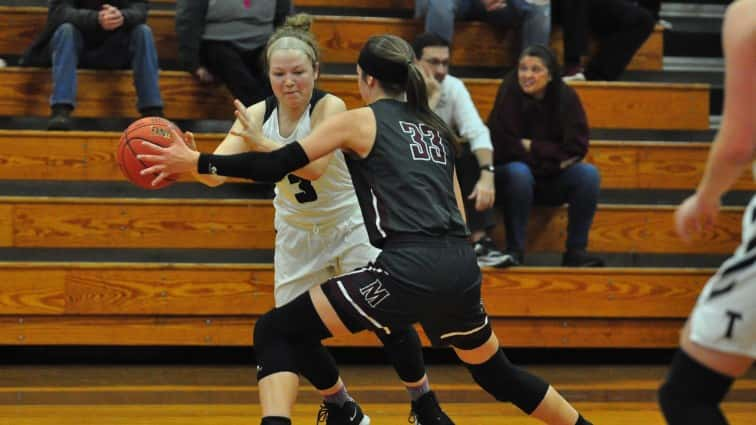 In a battle of the two Second Region girls' basketball teams with the most wins this season, Madisonville flexed their muscles to remain unbeaten on the season with a 55-23 win at Trigg County Thursday.
Madisonville scored the first nine points of the game extended it to 18-3 by the end of the opening quarter thanks to a suffocating press defense that forced seven Trigg turnovers.
Olivia Noffsinger scored five straight points for Trigg County to draw to within 18-8 early in the second quarter but would get no closer.  Madisonville would end the half on a 13-3 run for a 31-11 halftime lead.
The Madisonville trio of Camryn LaGrange and twins Lindsey and Courtney Peyton have accounted for two-thirds of their team's scoring all season.  That was pretty much the same story Thursday as they combined to score 43 points and grab 20 rebounds.
Courtney Peyton had 20 point and six rebounds, and Lindsey had five points and nine rebounds.  LaGrange hit 4-of-5 three-pointers to finish with 17 points.  She added eight steals and five rebounds.
Trigg managed just 6-of-36 shooting in the game and turned the ball over 21 times – their most in a month.
Only four players scored for Trigg County.  Olivia Noffsinger led with 12 points.  Rylee Bush had four points and six rebounds, and Adri Phillips had four points and eight rebounds.
Madisonville is now 22-1 all-time against Trigg County, including nine straight wins.  Trigg's only win over the Lady Maroons came in 1989.
Madisonville (17-0) travels to Henderson County Saturday for a game many people consider matching up the two best teams in the region.
Trigg County (14-4) has lost consecutive games for the first time this season. They will play at University Heights Tuesday.
Madisonville            18   13   16   8—55
Trigg County            3     8     4     8—23
Madisonville (17-0) – C. Peyton 21, LaGrange 17, Lovan 10, L. Peyton 5, McGowan 2
Trigg County (14-4) – O. Noffsinger 12, Bush 4, Phillips 4, E. Noffsinger 3