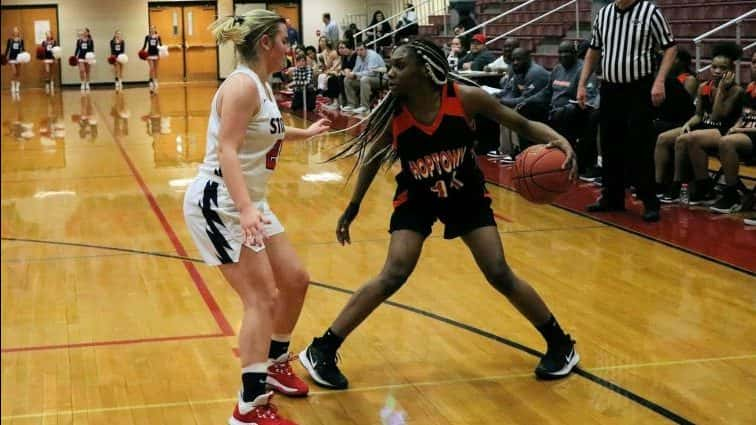 Donisha Flowers's runner in the lane with seven seconds to go in the game capped off a late 10-2 rally for the Hopkinsville Lady Tigers as they edge the Hopkins Central Lady Storm 47-45 Friday night in Mortons Gap. Flowers rebounded a missed Lady Storm shot, pushed the ball down the court, and then pulled up at the right side edge of the free throw line and knocked down a 15-footer to put the Lady Tigers in front. A last second layup from Hopkins Central was off line as Hoptown held on for the win.
The game had gone back and forth for most of the night. There were seven lead changes in the first quarter before Hopkins Central closed out the quarter on a 7-2 run to take a 13-9 lead after one.
The second quarter turned into a free throw shooting contest. Each team was only able to muster two field goals in the quarter. The difference turned out to be that Hopkins Central was able to knock down eight free throws, while Hoptown scored on five charity attempts, as the Lady Storm extended the lead to 25-20 at the break.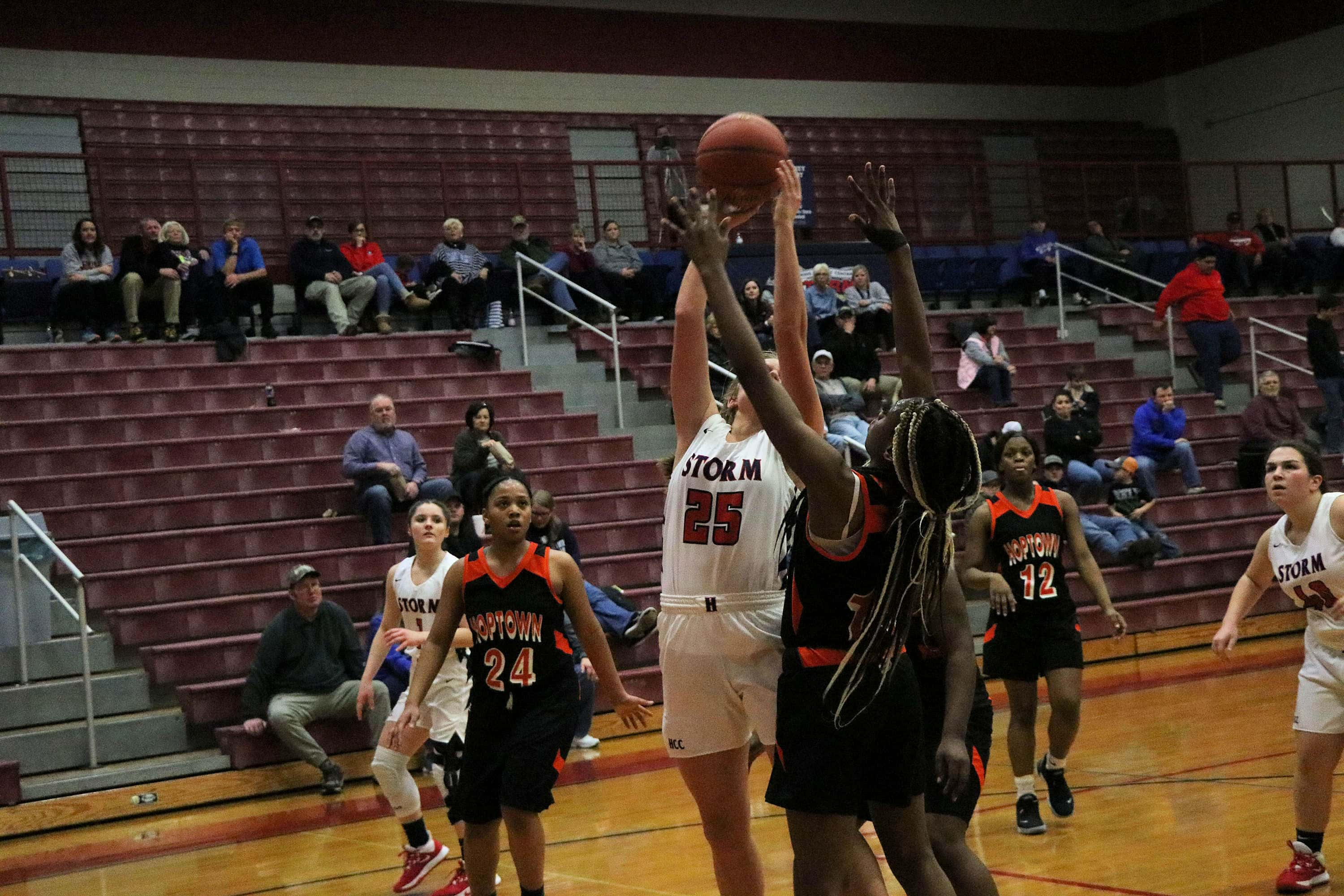 Early on in the third, Hopkins Central was able to maintain the lead. However, with the lead at 29-24, Donisha Flowers, who had been very quiet for the Lady Tigers in the first half, began to assert herself inside. Flowers scored 7 points in the quarter, including a jumper in the lane at the buzzer, as Hopkinsville finished the quarter on an 11-2 run to go up 35-31.
The Lady Storm looked to have things going their way as the final quarter began. Hopkins Central opened the quarter with 9 straight points to take a 40-35 lead. Central would inch the lead to 43-37 with less than four minutes to go in the game, setting up Hopkinsville's furious finish to take the two point win. Flowers scored to cut the lead to 43-39. Shaterrea Bellamy came up with a steal and layup to cut the lead to 43-41 with 3:09 to go.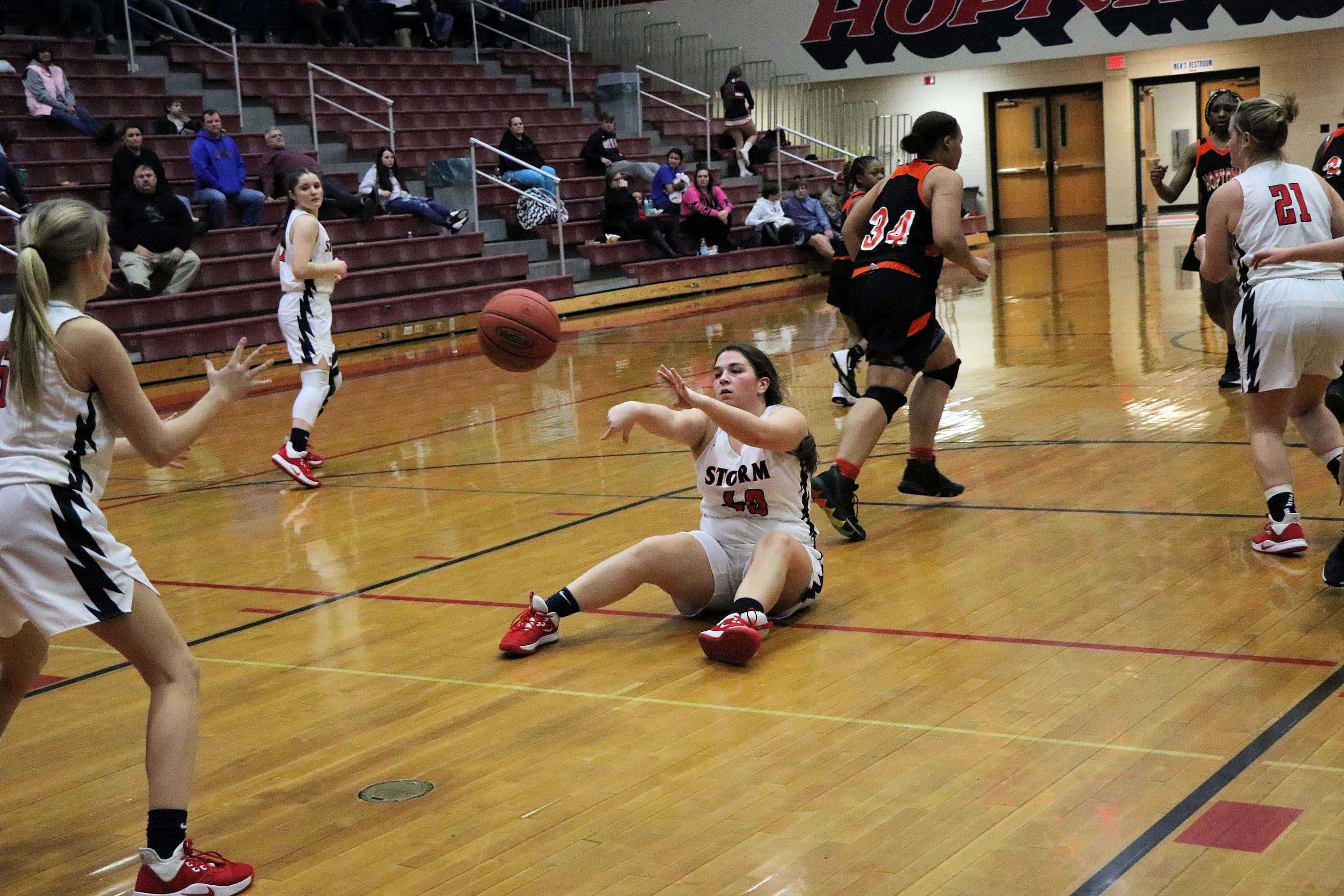 After a basket from Hopkins Central pushed the lead back to 45-41, Bellamy drilled a three from the right wing to cut the lead to 45-44 with 1:16 to go. Lakayla Samuel made one of two free throws to tie the game at 45-45 setting up Flowers game winner in the final seconds.
Shaterrea Bellamy led the way for Hopkinsville with 16 points. Donisha Flowers added 15 points, 13 of them coming in the second half. Lakayla Samuel finished with nine points.
Hopkins Central was the leading scorer for Hopkins Central with 11 points. Madison Grigg also reached double figures with 10. Kire Peyton added 8 points for the Lady Storm.