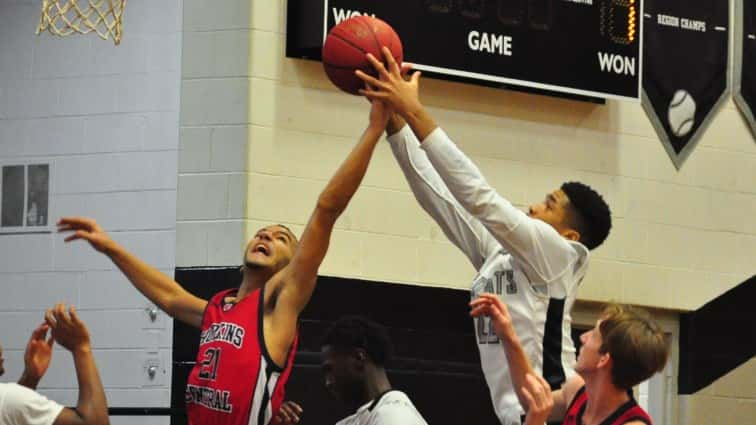 After losing their first 13 games to start the season, Hopkins County Central has won three of four and have appeared to find their footing under first-year coach Michael Fraliex. Their latest win came Friday 72-59 at Trigg County.
The Storm avenged an overtime loss to the Wildcats 11 days ago in the Class 2A sectional.
Hopkins County Central led wire-to-wire, jumping out to a 10-2 lead to start.  Trigg battled back to tie the game at 18 after one quarter.
The Wildcats didn't score for the first 4:49 of the second quarter as the Storm extended their lead to five points.
A Jakobe Bridges 3-pointer pulled Trigg to within 25-23, but Sam Almon answered with a three on the Storm's next possession.  With a minute left in the half, Trigg was called for an intentional foul on a layup attempt.  Almon scored five straight points, and Blasin Moore added a bucket to give the Storm a 33-24 halftime lead.
The problems continued to mount for Trigg County midway through the third quarter when Jhaden Vaughn, who had six points and six rebounds, turned his ankle and didn't return.
Hopkins Central built a 50-36 lead in the final minute of the third quarter.  Trigg answered with an 18-4 run to tie the game at 54 with 2:43 left.  Kion Thompson hit a pair of 3-pointers during the run.
However, hit 8-of-8 free throws as they scored the next 12 points to seal the win.  The Storm hit an impressive 25-of-28 free throws in the game (89%).  Trigg hit 7-of-15 at the line.
Khyran Vaughn had a big night for Trigg County, scoring 19 points and grabbing 12 rebounds.  Jakobe Bridges scored 12, and Kion Thompson had 10 points.
Hopkins Central had four players score in double figures, led by Marcus Eaves and John Miller who each scored 16 points.  Miller also had 11 rebounds.
The Storm also hit 47-percent from the field but turned the ball over 22 times that led to 23 Trigg points.
Hopkins County Central (3-14) will look to keep rolling Tuesday at Union County.
Trigg County (8-9) will play at Community Christian Saturday at 6pm.
Hopkins County Central               18   15   17   22—72
Trigg County                                    18    6    16   19—59
Hopkins County Central (3-14) – Miller 16, Eaves 16, Moore 15, Almon 12, Winn 9, Weldon 4
Trigg County (8-9) – K. Vaughn 19, Bridges 12, Thompson 10, J. Vaughn 6, Miles 4, Adams 4, Terrell 4