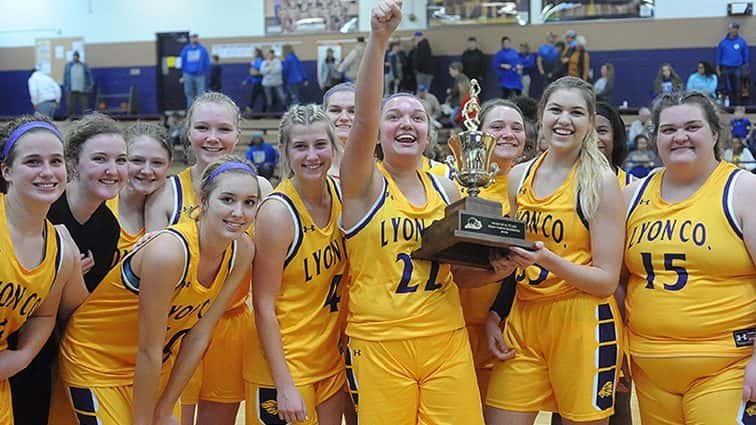 The Lyon County Lady Lyons did their best The Avengers impersonation this week at the 2nd Region All A Classic.
Lyon's girls avenged a pair of losses from earlier this season, including a 56-37 decision over Caldwell County in Saturday's championship game in Dawson Springs.
The Lady Lyons, who lost at Caldwell County 62-39 on Dec. 3, never trailed in the rematch.
Lyon (9-9) scored the first seven points of the contest.
Caldwell (9-7) appeared to regroup when it got within 18-16 early in the second period.
However, the Lady Lyons countered with a 9-0 run to extend its margin to double figures at 27-16.
Caldwell got good news when guard Jacey Jaggers, the team's leading scorer, checked into the game in the first quarter after missing the last three games with an ACL injury. However, bad news followed in the second quarter when point guard Jada Boyd went down with a knee injury and did not return. Freshman A.J. Hollowell also suffered a knee injury in the second half to add to Caldwell's woes.
Still, the Lady Tigers tried to stay within shouting distance.
Caldwell was within 29-20 at halftime, but saw Lyon extend the margin to 15 points in the third period before taking a 42-28 edge to the final frame.
The Lady Tigers made one final push that got them as close as 45-37 following three Jaggers free throws with 3:46 remaining.
But those proved to be the final points of the night as Lyon finished the game with an 11-0 run to put a stamp on its trip to the All A Classic state tournament next week in Richmond.
It is the fourth trip to the All A state tournament (2006, 2007, 2018) for Lyon, which beat Dawson Springs 48-42 in Thursday's semifinals after falling to the Lady Panthers 55-49 on Dec. 5.
The Lady Lyons will face West Carter at 10 a.m Eastern time Wednesday at Eastern Kentucky University's McBrayer Arena in Richmond.
Rose Smith led Lyon against Caldwell with 14 points on 7-of-11 shooting from the field. Cathryn Brown added 13 points while Calista Collins had 12 points and 10 rebounds. KentTavia Matthews added 10 points.
Jaggers topped the Caldwell scoresheet with 12 points.
The Lady Tigers were looking for their first appearance in the All A Classic state tournament since making back-to-back trips in 20-09 and 2010.
Lyon County         18   11   13   14 — 56
Caldwell County  13   7     8     9 — 37
Lyon County (9-9) — Smith 14, Brown 13, Collins 12, Matthews 10, Butler 4, Wynn 3.
Caldwell County (9-7) — Jaggers 12, McConnell 7, McDaniels 5, Goffinet 3, Boyd 3, M. Hollowell 3, Parker 2, A.J. Hollowell 2