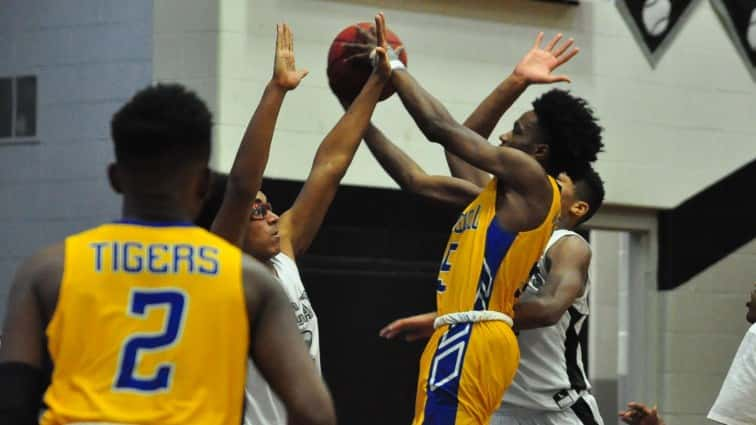 Free throws were costly in Caldwell County's loss to University Heights Saturday in the All-A Classic region title game.  They were their friend Tuesday in the Tigers' 82-73 win at Trigg County.
Caldwell hit 18-of-26 at the charity stripe, including 12-of-17 in the fourth quarter to thwart the comeback effort of the Wildcats.
The Tigers hit 10 of their first 16 shots from the field in keeping pace with a Wildcat team content to push the tempo.  Caldwell led 23-22 at halftime and steadily pulled away in the second quarter to build a 43-33 lead at halftime.
Caldwell led 51-35 a minute into the second half before Trigg responded with an 18-6 run to end the third quarter.  Jordan Miles hit a pair of 3-pointers for Trigg to spark the run.
Trigg County cut the Caldwell lead to two points on three different occasions in the fourth quarter, the last at 70-68 with 3:33 left.  Caldwell hit six free throws in the final 2:14 while limiting Trigg to just one field goal over that time.
Both teams battled foul trouble most of the night with each team seeing two players foul out.  Cole Smiley had 13 points and five rebounds, and Cayden Fraliex scored nine points before both fouled out.
Jabrion Spikes came off the bench to score 17 points with six steals.  Turnovers were a factor in the game.  Caldwell forced 20 Trigg miscues and outscored the Wildcats 27-18 off the turnovers.  Adarius Riley scored 15 points, and Jamarius Blane added 13 points and four steals.
Caldwell County played without leading scorer Tripp Branch and his 13 points per game.
Kendric Adams and Khyran Vaughn each scored 20 points for the Wildcats.  Vaughn had 10 rebounds, and Adams added nine.  Kion Thompson added 15 points, and Jordan Miles had 12.
Trigg County hit 9-of-15 shots in the first quarter but shot just 31-percent over the final three quarters.  They did hit 20-of-29 at the free throw line.
Caldwell County has now won four straight games over the Wildcats and six of their last seven.  They lead the all-time series over Trigg 73-64.
Caldwell County (9-9) will travel to McLean County Friday, while Trigg County (9-10) will host Dawson Springs for homecoming Friday.
Caldwell County     23   20   14   25—82
Trigg County            22   11   20   20—73
Caldwell County (9-9) – Spikes 17, A. Riley 15, Smiley 13, Blane 13, Fraliex 9, Ray 7, East 6, J. Riley 2
Trigg County (9-10) – Adams 20, K. Vaughn 20, Thompson 15, Miles 12, Bridges 6