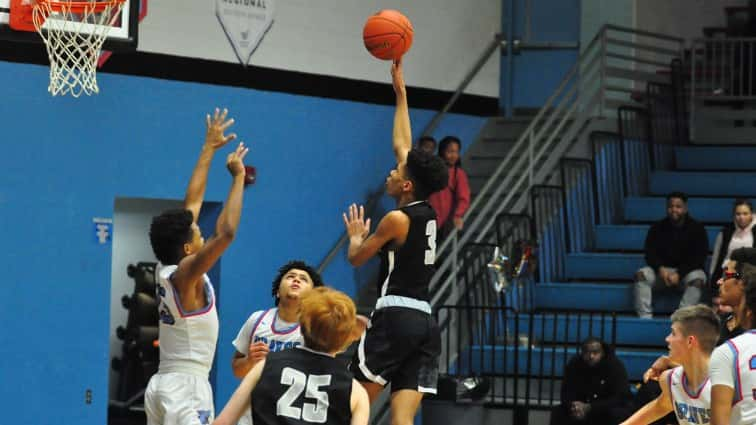 Union County shot 52-percent from the field in the second half and held off a pair of double-digit rallies to hand Trigg County a 64-59 loss Saturday in Morganfield.  Trigg County falls to 9-12 on the season and has dropped three straight games for the first time in a month.
The Wildcats led 7-6 early but didn't lead again the rest of the half.  Union built a 25-15 lead in the second quarter but watched Trigg County outscore them 9-2 to end the half.
Trigg led 31-28 early in the third quarter but the Braves again built a 10-point lead in the frame thanks to missed Trigg shots and the Braves getting out in transition and converting.  The Wildcats also turned the basketball over 17 times that led to 22 Union County points in the game.
Trigg got to within one point three times in the fourth quarter.  Each time Union had the answer.  The last time was at 54-53 with 3:01 left.  Trigg missed six straight shots, and Union answered with an 8-1 run to seal the win.
Trigg shot 52-percent (19/37) inside the arc and just 11-percent (2/17) behind it.  Union County shot 52-percent in the second half and hit 48-percent for the game.
Jordan Miles scored 20 points for Trigg County, who was playing without leading scorer Kion Thompson due to an injury sustained in the loss to Dawson Springs Friday.  Khyran Vaughn added 16 points and 12 rebounds.
Union County (7-11) got 18 points from Izaiah Manuel, with 13 points coming in the second half.
Trigg County will return to action Monday night at Wildcat Gym against Crittenden County in a district contest.
Trigg County            10   14   14   21—59
Union County          14    13   19  18—64
Trigg County (9-12) – Miles 20, K. Vaughn 16, J. Vaughn 11, Adams 8, Bridges 4
Union County (7-11) – Manuel 18, Martin 14, Mackey 9, Kanipe 8, Johnson 8, Corbett 5, Hughes 2