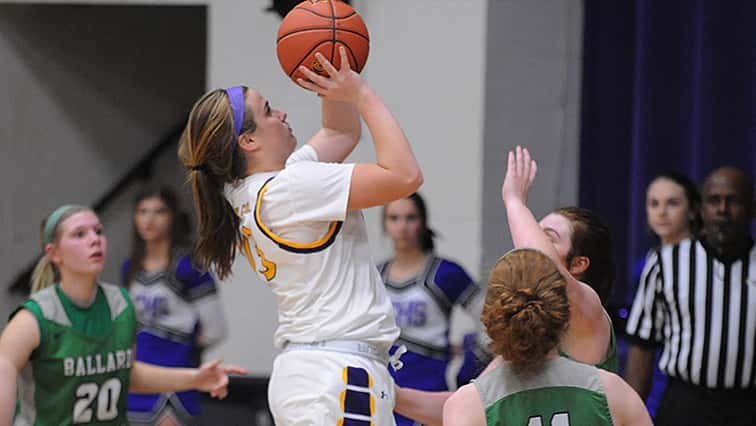 An 18-2 run in the second half helped Lyon County's girls turn things around after Ballard Memorial had seemingly grabbed control of the contest.
Down 22-17 midway through the third quarter, the Lady Lyons reeled off 11 straight points on the way to rallying for a 42-33 triumph Monday night at Jason White Gymnasium in Eddyville.
Lyon, now 11-13, ran out to an 11-2 lead early in the second quarter despite playing without leading scorer Rose Smith.
Ballard (9-12) got back to within 15-11 at halftime, then took the lead with seven straight points to start the second half. A 3-pointer by Autumn Dowdy pushed the Lady Bombers in front 16-15.
A three-point play by Mady Calvin gave Ballard its biggest lead of the night at 22-17 with 4:09 left in the stanza.
But Lyon quickly turned things around.
A basket from inside by Kayden Watts gave the lead back to the Lady Lyons, 23-22, with 1:18 remaining in the quarter.
A 3-pointer by Hadlie Butler helped Lyon go up 28-24 through three quarters.
Back-to-back buckets by Calista Collins and a three-point play by KentTavia Matthews extended the margin to 35-24 with 6:34 to play.
Ballard got no closer than eight points the rest of the way.
Collins scored 13 points and grabbed six rebounds for Lyon while Cathryn Brown had eight points and eight boards.
Dowdy had 15 points for Ballard while Calvin had 14 points and 11 rebounds.
The win halted a three-game losing skid for Lyon, which will next play at Fort Campbell on Thursday.
Ballard Memorial   2   9   13   9 — 33
Lyon County             9   6   13   14 — 42
Ballard Memorial (9-12) — Dowdy 15, Calvin 13, Nichols 2, O'Conner 2.
Lyon County (11-13) — Collins 13, Brown 8, Defew 6, Matthews 4, Sutton 4, Butler 3, Wynn 2, Watts 2.