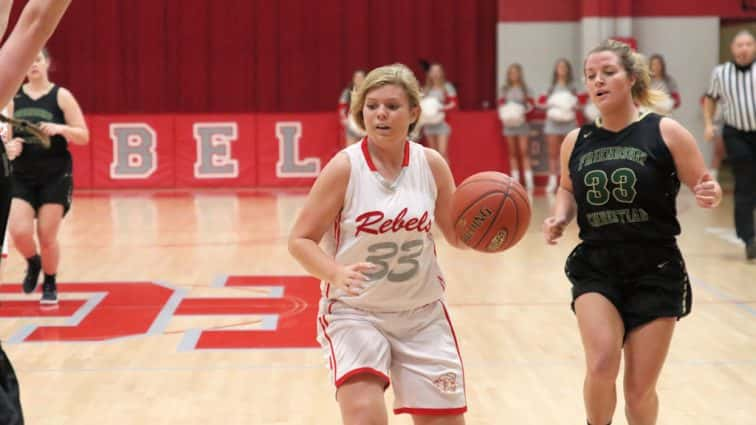 A slow start offensively and Ohio County setting the nets on fire from behind the arc were too much for the Todd County Central Lady Rebels to overcome on the road Monday night. The Lady Eagles controlled the game from wire to wire on their way to a 71-34 win on their home court.
Ohio County came out firing from the opening tip. The Lady Eagles knocked down four 3-point shots in the opening quarter. On the defensive end, Ohio County limited the Lady Rebels to seven first quarter points as the Lady Eagles bolted out to a 20-7 lead.
Ohio County stayed hot from behind the line in the second quarter, knocking down five more three pointers. The Lady Eagles defense remained stout as well, holding Todd County Central to less that ten points for the second consecutive quarter, and extended the lead to 41-16 at the break.
Defense continued to play a big role for Ohio County in the 3rd quarter. The Lady Eagles held the Lady Rebels below 10 points for a third consecutive quarter as they were able to push the lead on out to 58-24 headed into the final eight minutes.
Ohio County extended the lead further in the 4th quarter, bringing the running clock into play, as the Lady Eagles pulled on out for the 37 point win.
Jayla Leavell was the only Lady Rebel to reach double figures with 10 points. Lucy Chester finished the night with 8 points. Eliza Simons and Jamaia Coleman each added four points.
For Ohio County, Kami Smith was the leading scorer with 16 points. Kelsey Kennedy added 12 points, all on three pointers. Rain Embry ended up with 9 points for the Lady Eagles.