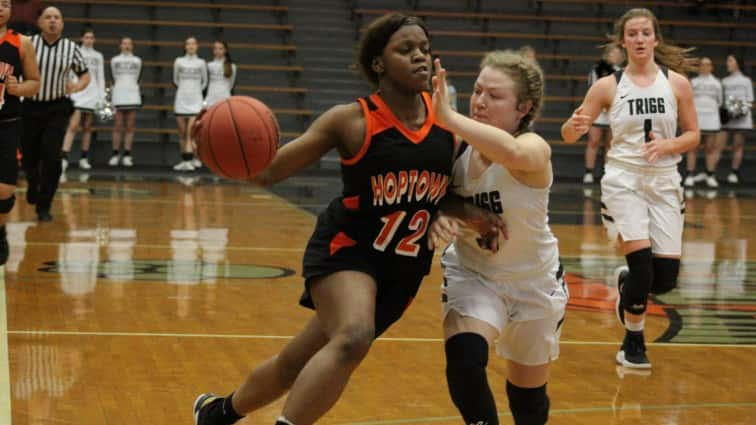 Hopkinsville began the second half on a 10-0 run and never looked back as they handed Trigg County a 40-31 loss Monday at Wildcat Gym.
Lakayla Samuel scored the first four points of the second half, and three other Lady Tigers contributed to the third quarter surge that turned a 17-16 deficit into a 26-17 lead.
Adri Phillips scored a bucket with 1:31 left in the quarter to end the run, and Olivia Noffsinger knocked down a 3-pointer just ahead of the horn to trim the Hoptown lead to 26-22.
Trigg got as close as 27-24 early in the fourth quarter but managed just one field goal the rest of the game and never got any closer.
The Lady Wildcats had chances to help themselves cut into the Hoptown lead but hit just 5-of-19 at the free throw line, including 4-of-16 in the second half.  Hoptown hit 14-of-23 at the line.
Hopkinsville, the leading rebounding team in the region, held a 37-27 advantage on the glass and scored 10 second chance points.
Donnisha Flowers led Hoptown with 15 points, 11 rebounds, and six blocked shots.  Samuel added 13 points and 14 rebounds.
Emily and Olivia Noffsinger each scored eight points to lead Trigg County, who dropped their 13th straight game to Hoptown.
Trigg County (18-6) will travel to Dawson Springs Tuesday, while Hopkinsville (12-11) will host McCracken County Tuesday.
Hopkinsville             8    8   10   14—40
Trigg County            7    10    5    9—31
Hopkinsville (12-11) – Flowers 15, Samuel 13, Bellamy 8, Epps 2, McGee 2
Trigg County (18-6) – O. Noffsinger 8, E. Noffsinger 8, Phillips 5, Reynolds 4, Bush 2, I. Grubbs 2, T.T. Grubbs 2