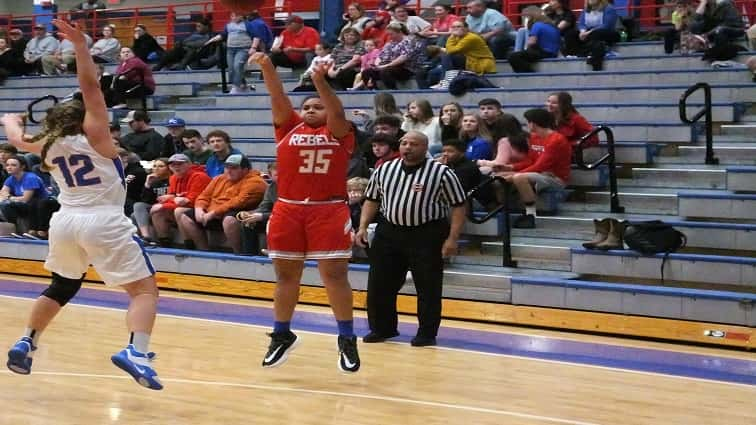 Looking for its first victory since a win over Fort Campbell in early December, the Todd County Central girls' basketball team went on the road to Montgomery Central, TN on Tuesday night, holding on to beat the Lady Indians 39-37.  The result halts a sixteen-game losing run for the Lady Rebels ahead of a 13th District matchup with Logan County on Friday in Elkton.
Jordan Weathers scored the last of her 5 first-quarter points on a 3-pointer to give the Lady Rebels a 9-6 advantage with 1:30 left, and they maintained a 3-point edge after one.
The Lady Rebels got 5 points from Lucy Chester in the second, with her two free throws with 2:41 left in the half giving them their largest lead at 20-12.  However, the Lady Indians outscored Todd County 5-2 down the stretch to trim the margin to 5 at halftime.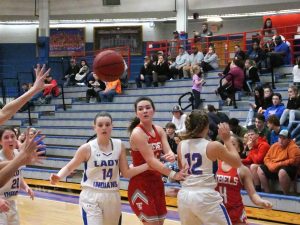 Todd County was held to single digits in the third quarter, while Montgomery Central got 3 points each from Abby South, Autumn Johnson and Lauren Ashby to leave the Lady Rebels clinging to a 3-point edge.
After Todd County's Shelby Johnson hit one of two free throws to start the fourth, the Lady Indians responded with a 4-0 run to tie the game at 30-30.  Montgomery Central's Keli Stump came up with a steal and converted a 3-point play to give the Lady Indians their first lead of the game with 6:11 to play.
Eliza Simons missed the front end of a 1 and 1 with the Lady Rebels trailing by a point, but Johnson tracked down the rebound and scored down low to nudge them back in front with 2:15 left.  After missing two free throws on the previous possession with the Lady Rebels once again down a point, Chester stepped to the line and converted both to put them in front for good with just over a minute on the clock.
Montgomery Central turned the ball over twice in the final 20 seconds, before Weathers hit one of two from the charity stripe with just :4.6 to play for the final score.
Todd County Central          11    11     7    10 — 39
Montgomery Central           8     9     9     11 — 37 
Todd County Central (2-17) — Johnson 11, Chester 10, Simons 6, Weathers 6
Montgomery Central (2-13) — Stump 8, Ashby 8, Rankhorn 6