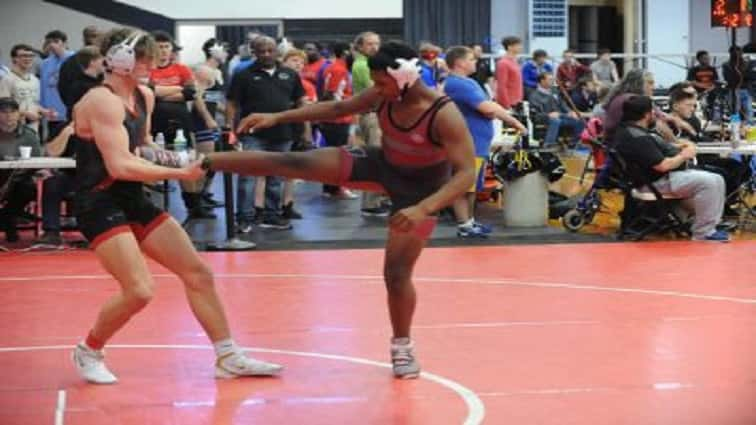 For the first time in program history, the Trigg County wrestling team hosted the Region 1 tournament on Saturday at Wildcat Gym, with Colin Stevens' 2nd-place finish helping the the Wildcats to 9th in the team standings.
Stevens (39-2), wrestling at 170 lbs., won by fall over McCracken County's Davin Perkins, before earning a 9-3 win over Christian County's JT Adams in the semifinals.  He then faced Union County's Stephen Little in the final, with Little taking a 5-4 victory in a double tie-breaker.  Little also handed Stevens his only previous loss of the season.
Andrew Hendricks (17-2) was the next-highest finisher for the Wildcats, qualifying for the state tournament by earning 4th place at 220 lbs.  Hendricks won by fall over Caldwell County's Preston Rogers, before dropping a 6-3 decision to Union County's Darius Moore.  He won his semifinal consolation match by fall over Henderson County's Weston Melton, but fell to Hopkinsville's Red Barnes by a 9-3 decision in the 3rd/4th place match.
Thomas Bruce (24-10) finished 5th at 120 lbs., beginning the tournament with a bye.  A 6-0 decision over Christian County's Nathan Hale followed, but he would lose by fall in the semifinals to McCracken County's Parker McGee.  Bruce dopped the semifinal consolation match to Easton Grove of Ohio County 5-3 by sudden victory, before topping Hale by fall again in the 5th/6th place match.
At 285 lbs., Ty Saez (7-11) placed 5th, dropping his first match by tiebreaker to Hopkinsville's Dontre Quarles.  He received a bye in the first consolation round, but lost by fall to Ohio County's Andrew Pottle in the consolation semis.  He closed his tournament with a little retribution, knocking off Quarles 3-2 in a rematch.
Other Wildcat finishes included, Timmy Cannon finishing 2-2 at 113, Tyler Harris 2-2 at 132, Dominik Lee 0-2 at 138, DaiMicah Wilson 1-2 at 145, Anthony Hall 1-2 at 152, Jack Lingenfelter 2-2 at 160, and Austin Proffitt 1-3 at 195.