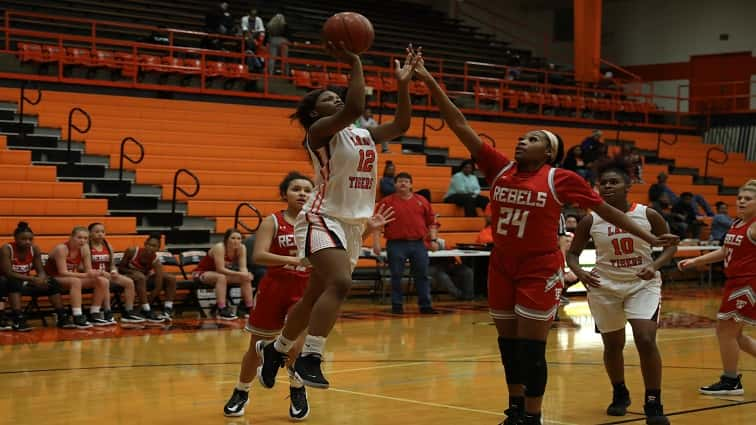 After scoring in the 40's in each of its last three games, the Hopkinsville girls' basketball team erupted for its highest point total of the year on Tuesday night, cruising past Todd County Central 76-46.  The Lady Tigers stop a two-game skid with next Thursday's visit from South Warren their only remaining regular season game.  The Lady Rebels lose their second-straight ahead of a 13th-District meeting with Russellville on Friday.
Both teams took awhile to get going in Tiger Gym, combining for only 8 first-quarter points.  However, the Lady Tigers put up 24 in the second behind 12 from Jakayla Epps and 8 for Shaterrea Bellamy to lead 29-18 at the halftime break.  Shelby Johnson chipped in 4 for the Lady Rebels.
Lakayla Samuel put up 8 in the third for the Lady Tigers and they continued to stretch the lead.  Donisha Flowers added 7 and Hopkinsville led by 22 with a quarter to play.
Emoni Fort scored 4 of her 8 in the fourth quarter for the Lady Rebels, but they were outscored by 8 for the final 30-point margin.
Todd County          3    15    12    16 — 46
Hopkinsville           5   24    23   24 — 76
Todd County (2-19) — Johnson 10, Fort 8
Hopkinsville (13-13) — Samuel 16, Epps 16, Bellamy 12, Flowers 11