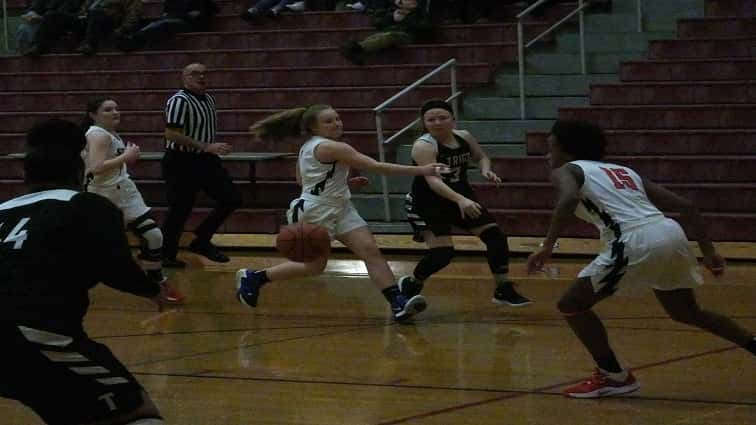 After trailing for three quarters Tuesday night in Morton's Gap, the Trigg County girls' basketball team took the lead early in the fourth and did the job at the free throw line to hold off Hopkins County Central 53-48.  The Lady Wildcats had lost two of three coming in, averaging less than 28 points in the two setbacks, but found the range for their highest offensive output in two weeks.
Neither team led by more than 2 early on, and the game was tied at 12-12 after a jumper by Trigg's Rylee Bush with 2:30 left in the first quarter.  However, the Lady Storm reeled off a 9-1 run to surge in front and led 21-15 after one.
After scoring 6 first-quarter points, Trigg's Adri Phillips picked up her third foul midway through the second and had to sit the rest of the half.  The teams combined for only 15 points in the period, and Hopkins Central took a 5-point edge into halftime.
The Lady Storm lead was 9 with three minutes played after the break, but Trigg County responded with a 12-4 spurt, capped by a 3-point play by Kinizah Grubbs, to pull within a point.  A Madison Grigg 3-pointer pushed it back to 4 for Hopkins Central, before Bush hit one of two free throws to leave the Lady Storm clinging to a 1-point advantage after three quarters.
Just :15 into the final quarter, Emily Noffsinger knocked down a 3-pointer to put the Lady Wildcats in front for the first time since early in the first quarter.  It would be Trigg's only field goal over the final eight minutes, but they would go 10-15 from the free throw line to seal the win.  They did the job on the defensive end as well, holding the Lady Storm to just 7 points the rest of the way.
Trigg County          15     8    17    13 — 53
Hopkins Central   21     7     13     7 — 48
Trigg County (20-7) — E. Noffsinger 11, Phillips 9, Bush 9
Hopkins Central (6-15) — Grigg 12, Fritz 11, Reynolds 10