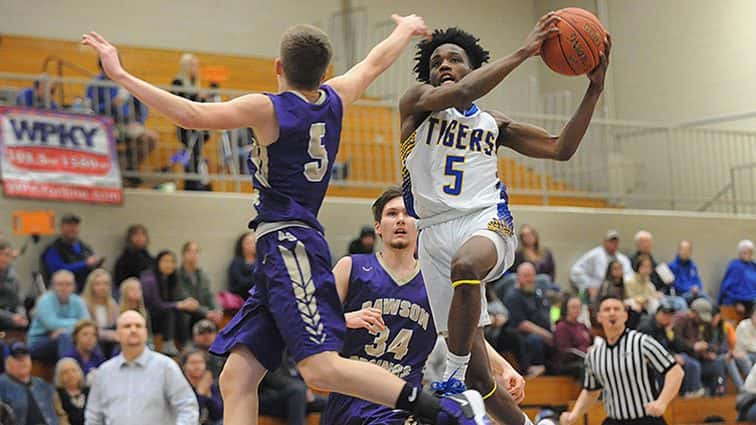 Caldwell County is making a late-season push for a winning record in 2019-20.
The Tigers routed 7th District foe Dawson Springs 89-60 Thursday night for their third-straight win this week.
Caldwell, now 12-14, led by as much as 30 points on three occasions in the second half in the final 7th District game of the regular season.
Dawson (12-15) led only at 2-0 before a 12-0 run put Caldwell in front to stay.
The Tigers led by as much as 13 points in the first quarter before the visiting Panthers pulled to within 21-13 after 8 minutes at the CAB gym in Princeton.
Braxton Cotton scored on a stickback to start the second quarter and get Dawson as close as 21-15.
But that's as tight as the game would get.
T.J. Ray, Tripp Branch and Cayden Fraliex each buried 3-pointers as Caldwell opened up a 34-18 margin midway through the second period.
By halftime, Caldwell held a 49-26 advantage.
The Tigers' biggest leads in the third quarter came at 56-26 and 63-33.
Caldwell took a 69-45 advantage to the final frame.
The margin hit 30 points again late at 89-59 on a 3 by Jabrion Spikes.
Caldwell canned 10 3-pointers in the contest.
Fraliex had four of those and finished with a game-high 18 points. The Tigers also got 11 points apiece from Ray and Spikes while Branch finished with 10. Jude East and Cole Smiley had eight points each as all 12 Tigers in uniform got into the scoring column.
Cotton led the scoring for Dawson with 16 points. Landon Pace had 13 and Dylan Dawson 11.
Caldwell was already locked into the No. 2 seed in the 7th District behind top-seeded Madisonville-North Hopkins.
However, Dawson could have moved up to the 3 seed with a win on Thursday.
Instead, Hopkins County Central gets the No. 3 seed (and will face Caldwell in the district tourney) while Dawson is the 4 seed (and will have to play Madisonville in the tourney).
Caldwell will play its fourth game in five days on Friday when it faces Trigg County in the first game of a boys and girls doubleheader at the CAB gym.
Dawson will next host McLean County on Saturday night.
Next week is the final week of the regular season for high school basketball teams in Kentucky.
Dawson Springs   13   13   19   15 — 60
Caldwell County  21   28   20   20 — 89
Dawson Springs (12-15) — Cotton 16, Pace 13, Dawson 11, Clark 7, McKnight 7, Skinner 5, Nieters 1.
Caldwell County (12-14) — Fraliex 18, Ray 11, Spikes 11, Branch 10, East 8, Smiley 8, J. Riley 7, A. Riley 6, Thompson 4, Blaine 3, Whittington 2, G. Riley 2.