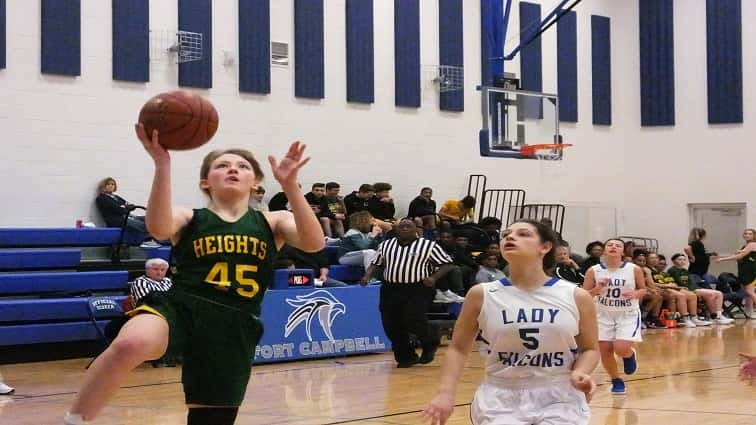 UHA and Fort Campbell both entered Thursday night's 8th-District girls' basketball game looking to put the brakes on long losing streaks, with the Lady Blazers turning a lopsided rebounding advantage into a 52-22 victory over the host Lady Falcons.  UHA pulled down 46 boards, including 27 offensive, to the Lady Falcons' 26 total, to move to 2-4 in district play.
UHA got 4 points each from Meghan Adams and Mallory Rager to take a 14-2 lead after the first quarter.  Asia Cabili scored 5 of the Lady Falcons' 8 in the second, but they trailed 25-10 at halftime.
Fort Campbell' Danielle Houston knocked down two 3-pointers in the third to go with 4 more points from Cabili, but Clarissa Miller answered with two 3's of her own to help the Lady Blazers outscore the Lady Falcons 13-10.
Adams scored 6 of her game-high 10 over the final eight minutes, and the UHA defense held Fort Campbell to a single basket for the final 30-point margin.
The Lady Falcons will be back in action on Friday when they welcome Franklin-Simpson to post.  UHA will be on the road on Saturday when they travel to Butler County.
University Heights          14    11    13    14 — 52
Fort Campbell                   2      8    10    2 — 22
University Heights (6-17) — Adams 10, Rager 8, Miller 8
Fort Campbell (0-19) — Cabili 9, Houston 9