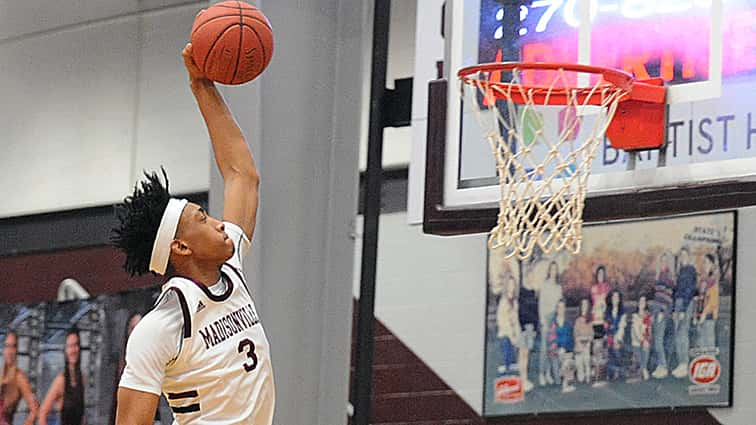 With Caldwell County's win over Dawson Springs in boys' basketball action on Thursday, the pairings are now set for the 7th District basketball tournament.
The 7th District tourney will get underway on Monday, Feb. 24, at Madisonville-North Hopkins High School. The tourney will run through Friday, Feb. 28.
The girls tourney has semifinal action on Monday, Feb. 24, with top-seeded Madisonville taking on Dawson Springs at 6:00. The late game that day has No. 2-seeded Caldwell County taking on Hopkins County Central.
The boys semifinals are Tuesday, Feb. 25. Madisonville is the No. 1 seed and, like the girls, will take on Dawson Springs at 6:00. Caldwell is the No. 2 seed and will meet Hopkins Central in the late game.
The girls championship will be played on Thursday, Feb. 27, at 7 p.m.
The boys championship is set for Friday, Feb. 28, at 7:00.
Madisonville's squads are heavy favorites after rolling through regular-season district play 6-0.
Caldwell's teams were each 4-2 in the district, falling only to Madisonville.
For the girls, Hopkins Central was 2-4 in district play while Dawson Springs went 0-6.
For the boys, Dawson Springs and Hopkins Central finished with identical 1-5 district marks and split with each other. However, the second meeting is the tiebreaker in the 7th District — and the Storm beat the Panthers 73-67 on Jan. 31. Dawson Springs had beaten Hopkins Central 66-61 on Dec. 13.
The Panthers could have moved up to the No. 3 seed with a win at Caldwell County on Thursday.