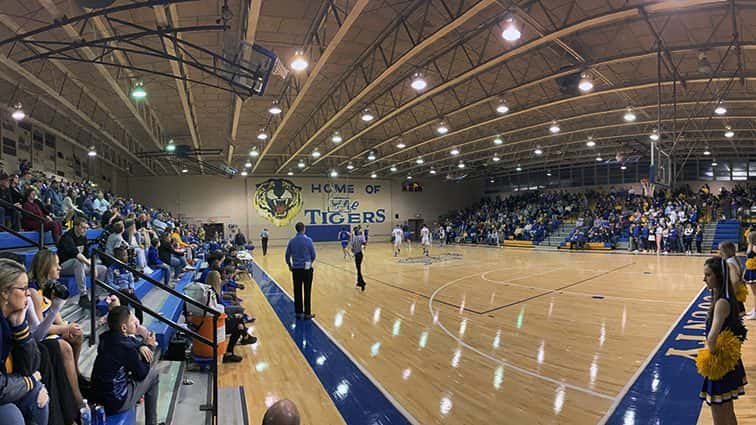 Old Glory hanging in Butler Gym only has 48 stars — but the former Caldwell County basketball home actually opened just after Alaska and Hawaii were admitted to the Union.
Hawaii was the 50th state, officially gaining statehood on Aug. 21, 1959.
Three-and-a-half months later, Butler Gym in downtown Princeton saw its first official basketball game.
On Dec. 8, 1959, the Caldwell County Tigers and the Madisonville Maroons tipped off the new gym on the former campus of Caldwell County High School — and before 1955, Princeton Butler High School.
Madisonville spoiled the opening that night with a 75-29 victory behind a 30-point effort from David Maddox. But Butler Gym would quickly become an important part of the community.
Caldwell's first win at Butler was a 64-44 victory over Fredonia on Jan. 8, 1960. (Other schools on the Tiger schedule that season included Sturgis, North Marshall, Clay, Providence, Morganfield, Nebo, Charleston and Henderson City.)
One of the nicest gyms in western Kentucky when it opened, Butler even hosted the 1961 2nd Region tournament.
The Tigers, and later the Lady Tigers, called Butler Gym home through the 1987-88 season.
On Tuesday, Caldwell returned to its old court for a "throwback" doubleheader against former 5th District rival Crittenden County.
Butler proved it still had some magic. Caldwell's girls rallied from a first-half deficit to post a 59-50 victory in overtime. Caldwell's boys trailed by a point after three quarters before storming back to win 62-48 — avenging a loss in December at Crittenden County.
With a large crowd and a $1,000 gate, it's a sure bet the Tigers and Lady Tigers will be taking the floor at Butler again in future seasons.
Interestingly enough, Tuesday's "old gym" games were the second in as many nights for Caldwell County's squads.
A late change to the schedule led to the Tigers and Lady Tigers playing Hopkins County Central on Monday at South Hopkins Middle School in Nortonville — the former home of the South Hopkins High School Tomcats prior to consolidation in that county in 1996.
Leaks at Hopkins County Central High School resulted in wet spots on the basketball court in Mortons Gap, forcing the school to move its home date down the road, and making for a two-day trip back in time for Caldwell County and its fans.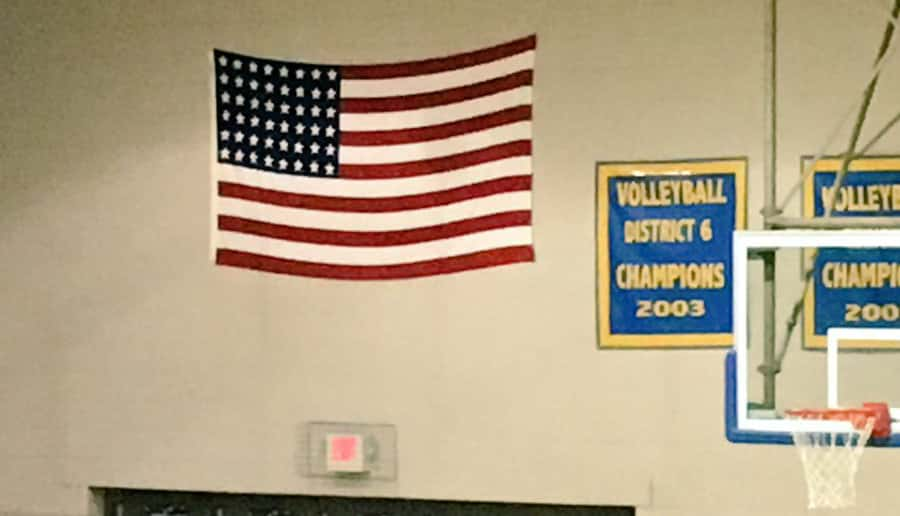 Caldwell has periodically played games at Butler Gym — both as scheduled nostalgia nights and because the CAB gym at CCHS was unavailable.
The first "throwback" game at Butler Gym was on Jan. 16, 2004 — a 75-64 boys win over Livingston Central behind 23 points from Matt Fraliex.
Caldwell played a varsity doubleheader against Livingston at Butler on Feb. 11, 2005. The Lady Tigers rolled 65-37 but the Tigers fell 64-61.
A twinbill against Lyon County was played there on Dec. 3, 2005. The Lady Tigers lost 47-44 that night but the Tigers rolled 60-28.
A Feb. 12, 2010 "throwback" night not only included a doubleheader against Trigg County, but Homecoming and a special recognition of a former Fredonia Yellowjacket state record-holder.
The late Russell Milton, who grabbed a state-record 48 rebounds in a 97-48 victory over the Marion Blue Terrors on Feb. 19, 1957, was recognized. Milton's 48 rebounds were almost forgotten, but his daughter contacted the KHSAA and supplied the newspaper report verifying the performance over 30 years later. Milton also scored 53 points in that contest. According to a report in the Caldwell County Times, Milton "hit 21 field baskets and 11 free tosses."
(Another interesting Caldwell-Fredonia connection: Before Butler Gym opened, Caldwell had played its home games at Fredonia, going back to the beginning of the 1950-51 season. The Tigers also practiced at Fredonia — and sometimes at Princeton Dotson — until the start of the 1959-60 season. Before 1950, home games were played primarily in the old gym in the basement of the Butler building, although some games were also played in the small auditorium at East Side Elementary School in Princeton.)
The Butler Gym has seen its share of big performances through the years.
Princeton Dotson and Western Kentucky University legend Dwight Smith established gym records with 39 points and 28 rebounds as his Bearcats beat Todd County on Dec. 28, 1961, in the Caldwell Invitational Tournament.
Allen County's Jim McDaniels topped Smith's scoring mark with 51 points and 17 rebounds in an 84-48 win over the Tigers in the 1966-67 season opener.
McDaniels, who starred at Western Kentucky University before becoming an all-star in both the ABA and the NBA, still owns the single-game scoring record at Butler Gym.
Donnie Wood, who later played at Murray State, scored 38 points for the Tigers in a 102-80 win over Henderson City on Feb. 1, 1972.
Michael Gray, now the women's basketball head coach at Brescia University, tallied 42 points in a 73-49 Caldwell triumph against Lyon County on Feb. 5, 1988. Gray, who played college basketball at Murray State and Kentucky Wesleyan, also scored 38 points 11 days later in an 88-79 overtime loss to Providence.
One of the most memorable games in the facility came on Jan. 13, 1987, when Caldwell took down highly-ranked Madisonville-North Hopkins and star guard Travis Ford 74-72 in double overtime. Ford, the head coach now at Saint Louis who played at both the University of Missouri and the University of Kentucky, buried a long shot that would have forced a third overtime. However, after a lengthy discussion, officials waved off the basket, giving the Tigers the two-point triumph.
The Maroons would get their revenge later that season, beating the Tigers 55-47 in the 2nd Region championship game in Madisonville.
Caldwell hosted Trigg County in another doubleheader at Butler Gym on Feb. 10, 2012, because the regional wrestling tournament was scheduled at the CAB gym that weekend.
The Tigers and Lady Tigers have played a handful of other games downtown over the past few years when other scheduling conflicts have arisen. And Caldwell's teams continue to use the gym for practices. Youth games are also still played there.
Butler Gym has undergone several changes since its heyday. The stage has been blocked in and now contains a hitting cage for the baseball and softball teams. The floor has been redone a couple of times and new blue-and-gold bleachers have been added.
But, as Tuesday showed, the old gym can still put on a show.
The CAB gym at CCHS is now synonymous with the Tigers and Lady Tigers. The CAB is more spacious and, in almost every way, a better facility. However, many Caldwell Countians still consider Butler "home."
But just how the flag on the wall came to have only 48 stars will remain a mystery. Has it been hanging in the gym since 1959? Or was an old flag pulled out of storage somewhere along the way, with no one noticing its blue field was a couple of stars short?
At this point, it's just part of the charm, the character, the mystique and the magic of Butler Gym.