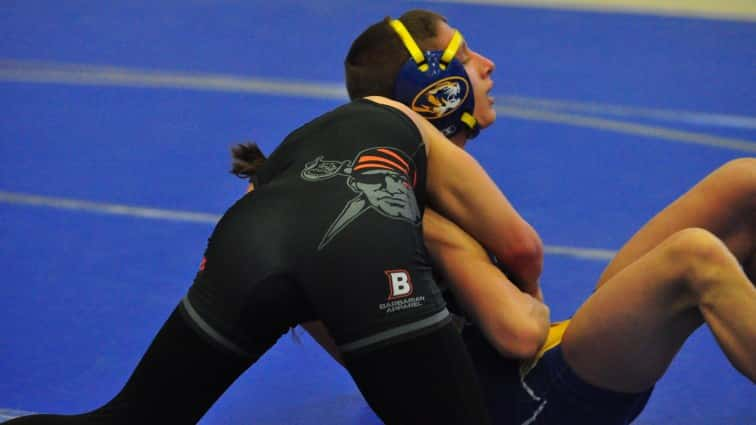 Caldwell County sits in 24th place after the first day of the KHSAA State Wrestling Tournament in Lexington.
Collin Teutsch won his first three matches of the day at 106.  He beat Valley's Simon Scheidel by fall in the first round and pointed Ryle's Olivia Messerly 14-8 in the second round.  He gained a 9-2 decision over Bryan Station's Brandon Bruner to advance to Saturday's semifinal.  He will wrestle against fourth-ranked Adam Williams.
Riley Johnson won his 113 opener with a 12-1 major decision of Valley's Mason Davis.  He lost his second-round match to No. 3 ranked Jonathon Gilbert of Madison Central 10-7.  He advanced to Saturday's consolation round with an 11-2 major decision over Fairdale's Noah Durbin.
Dylan Walls won his opener at 126 over St. Xaviers's Leone Couzin by fall (1:38).  He lost a 4-2 decision in the second round to LaRue County's Thomas Hoppes.  Walls came into the match ranked fourth in the weight class, while Hoppes was ranked third.
Walls rebounded with a win by fall (2:05) over South Oldham's Luke Ontiveros in the consolation round.
Colin Walls dropped his opening round match to St. Xavier's Kashiku Hutcheson 13-4.  Hutcheson is the son of former Caldwell state runner-up John Mark Hutcheson.  He bounced back to beat Anderson County's Ross Chapman in a 7-2 decision and Ryle's Carter Messerly by fall (2:08).
Cofy Harris lost his opener to Jason Holden by a 13-2 major decision.  He bounced back with an 8-1 win over Scott County's Ely Camp in the consolation round but saw his tourney end with a loss to Wayne County's Conner Sexton by fall (1:16).
Blaine Hicks lost both of his Friday matches to No. 4 Gavin Andreoni of Woodford County 10-2 and to Simon Kenton's Eric Johnson by fall (3:58).
John Paredes lost his opening match at 160 to Fern Creek's Trevon Warren 4-3 in the tie-breaker round but rebounded to win his second match by fall (2:48) over Belfry Nathaniel West.  His day ended with a loss to Christian County's Neal Aldridge by fall (1:26).
Action continues Saturday in Lexington.