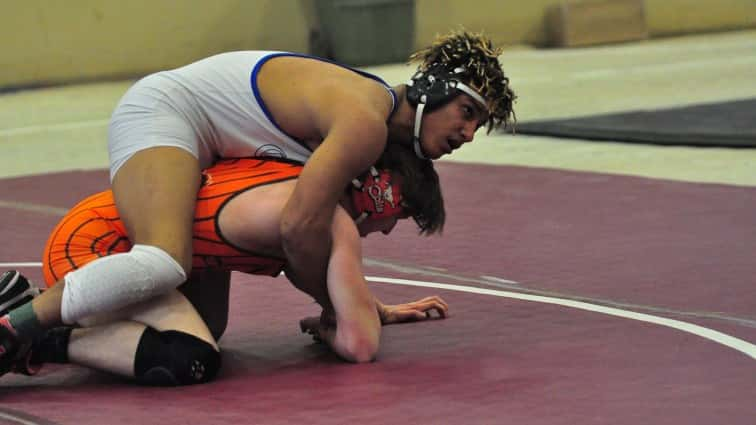 Christian County sits in second place after day one of the KHSAA State Wrestling Tournament in Lexington.  All 11 Colonel wrestlers will be wrestling on Saturday with three still alive for a state championship.
Gage Fowler won his opening round matches over Field Johnson of DeSales by fall (2:44) and Yahir Menchacha of Harrison County by a 10-0 major decision.  He advanced to Saturday's semifinal with a 6-4 decision over Boone County's CeJay Vaske.  Fowler will face Madison Central's Jonathon Gilbert in Saturday's semifinals.
Cameron Coleman opened with a technical fall (17-1) of John Hardin's Austin Silva.  He rallied from a 7-3 deficit to beat Trenton Cantlon of DeSales 9-7 in overtime in the second round.  He advanced to Saturday's semifinals with a win by fall (4:14) over Moore' Jeremiah Harlan.  Coleman, who came into the weekend ranked No. 4 in the state, will face No. 13 Ben Rush of Boyle County in Saturday's semifinals.
Niko Bussell was on the mat for a total of 5:28 in his three matches as he breezed into the semifinals.  His wins came over Anderson County's James Branscome, Johnson Centra's Devin Johnson, and Fairdale's Jaybereon Travis.  Bussell, the state's top wrestler in the 220 class, will face No. 4 Casey Rauch in Saturday's semifinal.
Jakerion Merritt opened defense of his state title with an opening round win over Meade County's Caileb Hills by fall (1:40) and won a second round match over Conner's Jacob Grandstaff 5-3.  Grandstaff is ranked sixth at 145.
However, Merritt's bid to repeat as state champion ended in the quarterfinals when No. 3 Ty Lenham outpointed him 3-1.  It was Merritt's first loss in over a year.  He drops into the consolation round where he can finish no better than fifth place.
Ethan Wells won his first two matches at 126.  He beat Luke Oliveros of South Oldham by fall (3:58) in the opener and Jayden Webb of Johnson Central 10-2 in the second round.  However, he lost in the third round to Madison Central's Jeff Kinley 6-4.
Austin Grant-Hall won his first matches at the state tournament sine.  He opened with a 10-0 win over Campbell County's Owen Stacey and beat Valley's Jadavin Bradley by fall (4:46) in the second round.  He lost in the third round by fall (3:50) to Woodford County's Chase Yost, the top-ranked wrestler in the 138 class.
JaRi Campbell won his first-ever state tournament match with a 15-3 major decision over Ashland Blazer's Troy Gardner before falling in the second round to Colin Tucker by fall.  Tucker is the second-ranked wrestler at 106.  Campbell rebounded to beat Moore's Bobby McCune by a 16-1 technical fall in the consolation round.
Neal Aldridge won his opener at 160 over DeSales Hayden Hartilage by fall (0:48).  He lost to Trinity's Landon Lenhart 4-3 in the second round but came back to beat Caldwell County's John Paredes by fall (1:26) in the consolation round.
J.T. Adams lost his opener at 170 to St. Xavier's Everett Marret by a close 7-5 decision. He came back to win a pair of matches in the consolation round to stay alive for Saturday. He defeated Paul Laurence Dunbar's Caleb Bloom-Doyle by fall (0:27) and North Hardin's Desmond Washington by fall (1:31).
A.J. Harvey won his first two matches of the day at 195. He beat Trinity's Ryan Martin by fall (5:59) and Martin County's Brayden Jude by fall (2:39). He lost in the quarterfinals by fall (1:10) to Walton-Verona's Daulton Mayer, the No. 1 wrestler in the state.
TyDarius Kelly beat Madison Central's Kyran Jackson by fall (1:49) in the opening round before falling to LaRue County's Tucker Shelton in a 6-1 decision in the second round.  Kelly stayed alive with a win over Daviess County's Say Moe by fall (2:31).
Christian County's point total of 93 is second to Union County's 150.5.  The Colonels are looking for their first top-three finish at state since 1994.