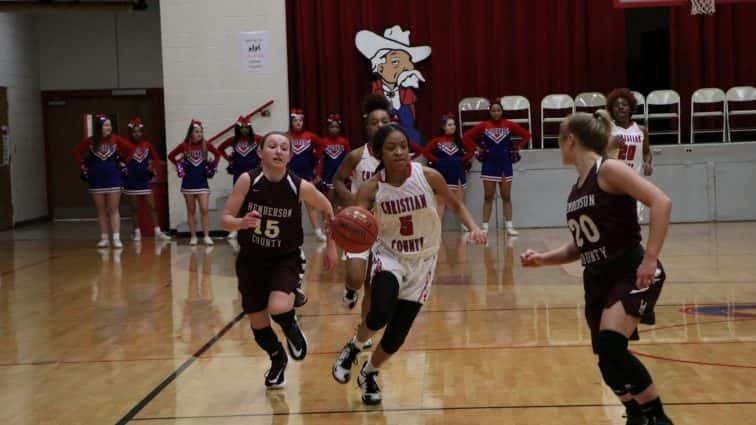 A furious 4th quarter rally was not enough for the Christian County Lady Colonels Friday night. After trailing by 20 after three quarters, the Lady Colonels came roaring back, but came up just short in a 54-48 loss at Hopkins Central.
The Lady Storm defense had Christian County off stride from the very beginning of the game. The Lady Colonels were limited to just two field goals in the opening quarter, as Hopkins Central took the early 15-8 lead. Keli Reynolds had a great start for the Lady Storm with eight points in the quarter.
The Lady Colonels were able to play a bit more even in the second quarter with the Lady Storm. Still, Hopkins Central was able to inch the lead out to 27-18 going into the locker room at the half.
Coming out in the second half, the offensive struggles popped back up for Christian County. Hopkins Central limited the Lady Colonels to one 3-pointer, one 2-pointer, and one free throw in the quarter, as the Lady Storm moved out to a 44-24 lead going into the final eight minutes.
Just as it looked as if the Lady Colonels had no chance, the made one big charge to get in the game. Led by Eniya McGee, Lamontavia Forte, and Reni Shemwell, Christian County got their offense clicking in the final quarter, but the deficit was too deep as Hopkins Central held on for the six point win.
Eniya McGee finished with 19 points. Lamontavia Forte added 10 points. Mikayah Killebrew just missed double figures with 9 points.
Madison Grigg paced Hopkins Central with 17 points. Keli Reynolds had 11 points. Mercy Sutton and Jaleah Bowman each ended up with 8 points for the Lady Storm.
With the loss Christian County falls to 10-15, while Hopkins Central improves to 7-15 with the win.