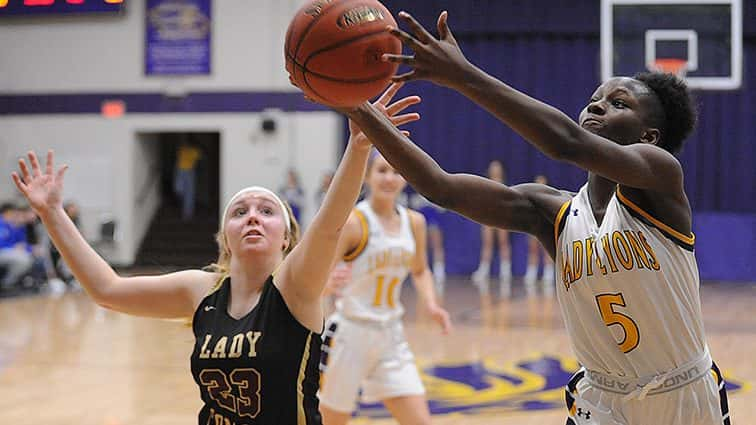 Carlisle County led for much of the night, but Lyon County held the advantage when it mattered most.
Ella Defew scored on a baseline drive with 10.2 seconds to play to put the Lady Lyons up 41-40, and KentTavia Matthews added two free throws with 1.8 seconds left as Lyon held on for a 43-40 triumph Monday night in Eddyville.
The Lady Comets (15-10) led by as much as eight points, 25-17, in the third quarter before the Lady Lyons rolled off 11 straight points to go up 28-25.
A long 3-pointer by Carlisle's Malle McGee at the buzzer sent the teams to the fourth quarter tied 28-28.
Kierra Whitaker put the Lady Comets up 38-36 with two free throws with 1:44 to play.
Whitaker then came up with a steal and scored on a drive to the basket to give Carlisle at 40-36 advantage with 1:31 remaining.
A short jumper by Rose Smith cut the gap to 40-39 with just 26 seconds left.
Following a Carlisle miss at the free throw line, Defew grabbed the rebound for Lyon. She dribbled into front court, found an opening on the right side, drove the baseline, and scored from in close to give Lyon the lead.
Carlisle then turned the ball over with 3.2 seconds to go, with Hadlie Butler scooping up a loose ball and Lyon calling timeout to preserve possession.
After Matthews' two charity tosses, Carlisle could not get off a shot ahead of the final horn.
Smith led all scorers with 19 for the Lady Lyons (13-15). Calista Collins had eight points and seven rebounds. Defew finished with six points and seven boards.
Carlisle, which saw a five-game winning streak snapped, got 10 points from Taylar Owens.
The Lady Lyons will finish the regular season on Thursday as part of a girls and boys doubleheader at Hopkins County Central.
Carlisle County   10   11   7   12 — 40
Lyon County         7   10   11   15 — 43
Carlisle County (15-10) — Owens 10, Tyler 7, Whitaker 6, McGee 6, Hall 5, Gibson 2, Jones 2.
Lyon County (13-15) — Smith 19, Collins 8, Defew 6, Matthews 4, Wynn 3, Doom 2, Butler 1.