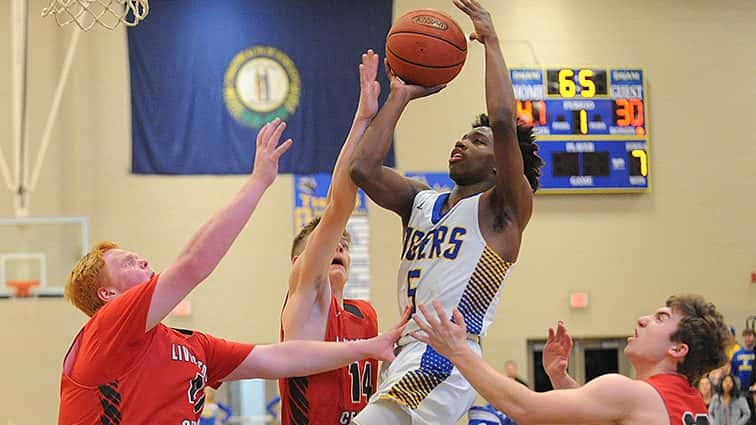 With postseason play beginning next week, the Caldwell County Tigers are above .500 for the first time all season.
Caldwell will carry a 15-14 mark into the 7th District tournament after turning back Livingston Central 77-48 Friday night in Princeton.
The Tigers got off to a slow start, with Livingston leading 7-1 and 12-6 in a bid to spoil Caldwell's Senior Night.
However, Caldwell turned things around with a 15-1 run in the first half.
That put the Tigers up 21-13, and Caldwell led the rest of the way.
The Tigers went to halftime with a 43-30 advantage and led by as much as 32 points late in defeating Livingston (3-26) for the second time this season.
Caldwell, which has now won six straight games, got balanced scoring with four players in double figures. Tripp Branch and Cayden Fraliex had 14 points apiece while Adarius Riley had 11 and T.J. Ray scored 10.
Max Downey led Livingston with 13 points. John Barnes added 11.
Caldwell next plays Hopkins County Central Tuesday night in the 7th District tournament in Madisonville.
Livingston faces host Lyon County on Tuesday in the 5th District tourney.
Livingston Central   13   17    7   11 — 48
Caldwell County       17   26   13   21 — 77
Livingston Central (3-26) — Downey 13, J. Barnes 11, D. Barnes 9, Wring 4, Garrett 4, Johnson 4, Goodaker 2, Ramage 1.
Caldwell County (15-14) — Branch 14, Fraliex 14, A. Riley 11, Ray 10, East 7, Smiley 6, Blaine 6, Co. Whittington 5, J. Riley 2, Thompson 2.